A lot can change in 85 years. We've certainly seen our share of that as a company.
But one thing that has never changed about Tyson Foods since our founding in 1935 is family. Family is what drove Founder John W. Tyson to move to Springdale, Arkansas in search of new opportunities. Family is who we are as a workforce, tens of thousands of members strong. Family is who we serve every day by helping keep food on America's tables.

That rich heritage of family has been passed on for generations – demonstrated by some of our own team members. The following stories highlight families across the Tyson Foods enterprise who have worked for us for multiple generations.
The Miller Family
Chip Miller's journey with Tyson Foods began at the age of 15. Still in high school and with a work release from his parents, he started a part time summer job in a hatchery on May 27, 1976 in Wilkesboro, North Carolina.
But you could say his journey began well before that. His dad Gordon worked for Tyson for 40 years, becoming the vice president of live production for Holly Farms (later acquired by Tyson Foods) and a veterinarian for the company.
Having observed his dad's dedication to Tyson Foods for most of his life, Chip continued to work for Tyson during his college summer breaks. By the summer of his junior year, he had gained a lot more business responsibility as a field service tech.
"At the end of that summer, I pretty well knew I was going to come back and start being a service tech when I got out of school my senior year," he said.
That full time work for Tyson Foods began in 1983 in Wilkesboro. From there, Chip gained vast experience with the company in several locations, working for 10 years primarily in live production before adding 10 years of plant experience.
In 2007, he moved to Northwest Arkansas, and he has served as the vice president of live operations since 2010. Along the way, two more Miller men joined Tyson Foods – Chip's sons Gordon and Cullen.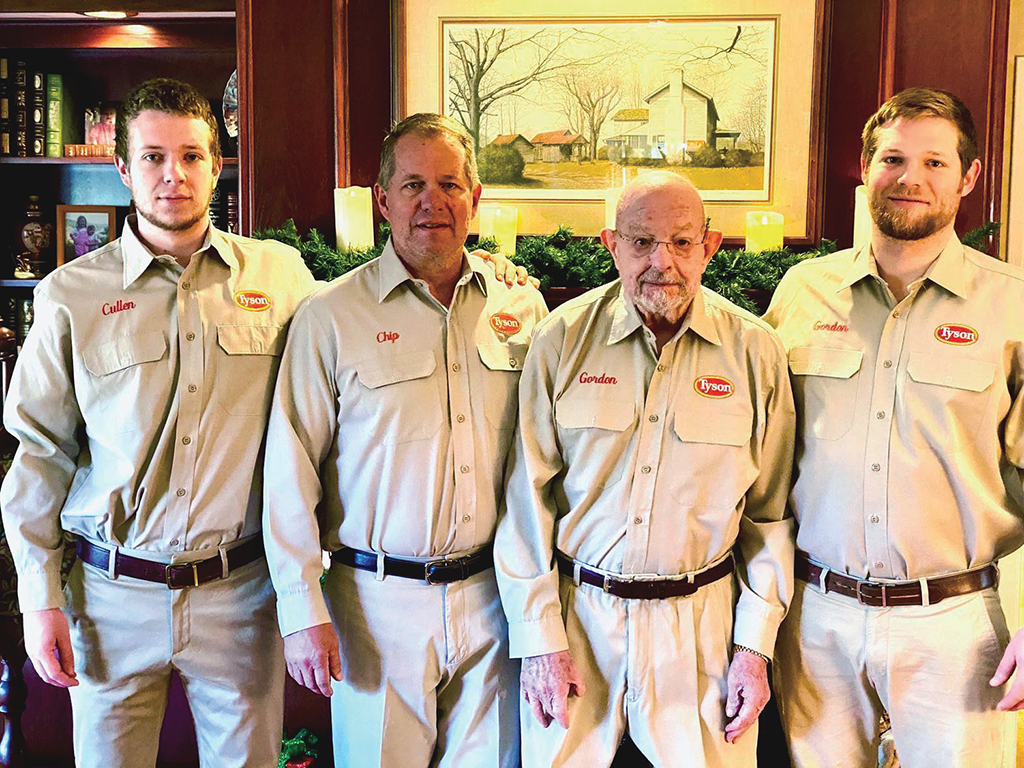 Gordon has been with the company for 7 years and is now an assistant plant manager at the Green Forest, Arkansas plant. Cullen is an engineer for Tyson Foods in Northwest Arkansas.
At the end of the day, Chip says it's been the care Tyson has shown to team members and the camaraderie within the company that has drawn three generations of the Miller family to work here.
"Generally, I think everybody wants to make everybody successful," he said. "Everybody knows there's a job to be done. I've just seen how well Tyson has taken care of people. How they've taken care of me."
So much of how the company has advanced over the years makes him excited about the future.
"Our housing [barns] to grow chickens in is the best I've ever seen," he said. "What I see in the future is more data and technology that will allow us to fine tune what we're doing. The technology that's coming is going to be the future."
The Harris Family
For the Harris family, farming is a family tradition.
"My great grandfather started growing chickens in 1951," Jacob Harris said. "He actually had a chicken house that had 200 chickens in it."
Jacob's grandfather started tending to those chickens in high school. When he graduated in 1955, he started working at Holly Farms, which was later purchased by Tyson Foods.
"My grandparents actually met working at the local Holly Farms plant," Jacob said.
His grandfather then began adding chicken houses as a contract grower for Holly Farms. By the time he had reached 9 houses, his grandmother quit working at the plant to help him on the farm.
"They became a husband and wife team in 1972," Jacob said.
Through the work of Jacob's dad and Jacob himself, the family has continued to add chicken houses to the business. The most recent were built in 2018.
Today, the Harris' have 24 houses on their farm, and they contract with Tyson Foods. Together, they raise nearly half a million birds. Jacob's dad still tends to the birds every day, and his 84-year-old grandfather helps on the property.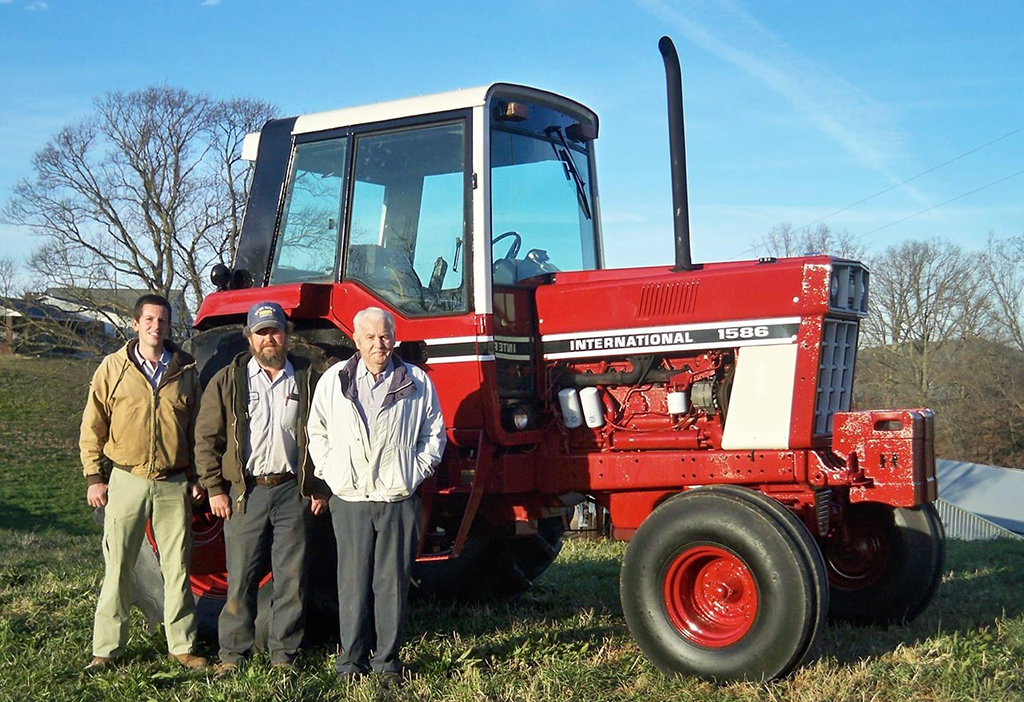 "We've been growing chickens on the same piece of land since 1963," Jacob said. "So, it's definitely a family tradition."
Though Jacob adds it was never forced on him. He knew at about the age of 13 he wanted to continue in farming. It just clicked. And since he graduated from high school, that's what Jacob's been doing.
Jacob and wife Beth have two young daughters who enjoy farm life. Madison, age 5, already says she wants to farm one day, too. Before they had kids, Beth would help set out feed for the chickens. And with no farming background prior to meeting Jacob, she's now proud to be part of such a strong heritage.
"I think it's very rare," she said. "I think it's very special and something everybody can learn from."
Contracting with Tyson Foods has meant security for the family. Jacob says other parts of farming can be up and down, which has made raising birds so beneficial for the family over the years.
"I've seen my family be able to make some decisions because they have security in that contract," he said.
And despite the hard work and sacrifices that come with farm life, Jacob says he wouldn't have it any other way.
"I wouldn't want to do anything else at the end of the day, that's for sure."
The Lopez Family
At the Tyson Foods plant in Broken Bow, Oklahoma, you'll find the Lopez family. And if you start counting, you'll find 8 of them.
Siblings Gilberto Guevara-Lopez, Sylvia Lopez, and Maria Lopez work there along with their mom Tomasa Lopez and stepdad J Santana Martinez. They're joined by an aunt, cousin and niece of their stepdad.
Their work is more than just a family affair. It's built on dedication. Gilberto has worked for Tyson Foods for 13 years, Maria for 10 and Sylvia for 16. But it was their mother Tomasa who started it all, having worked for the company for 20 years.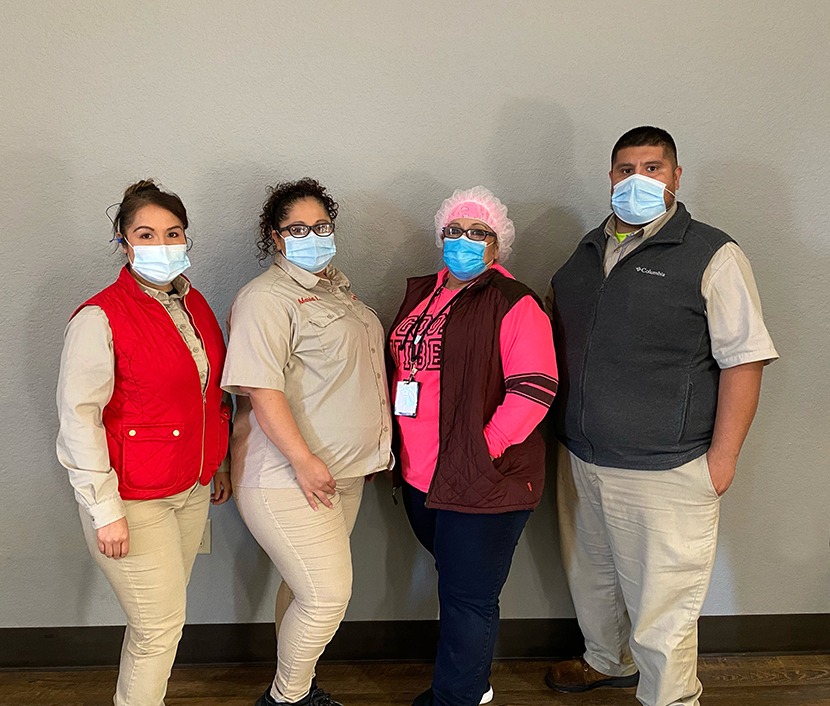 The siblings agree it was her experience that drew them to Tyson along with the opportunity for good benefits and competitive pay. Over the years, and as each of the siblings have moved up within the company, Gilberto says he's come to appreciate the candor of team members and the stability he's experienced at the company.
"They go above and beyond for their team members and for the management as a whole industry," he said. "That's what makes me comfortable about coming to work for Tyson Foods."
He says he's especially enjoyed the service opportunities he's had, like taking part in hurricane relief efforts after Hurricane Harvey hit the Houston area in 2017.
Having experienced a different type of storm this year, Maria says working for Tyson Foods during COVID-19 has given her an extra measure of pride in her role and how the company has handled the pandemic.
"For us to be able to come through as a company and still keep our people working, providing them with money, and giving protein donations to the community … even through our hardest times, we're still here working," she said.
The Frost Family
Loyd and Zane Frost are familiar faces to Tyson Foods. The father/son duo are truck drivers, who have shared many miles together.
Dad Loyd has a commercial driving career spanning more than 26 years, 6 of them spent with Tyson Foods. And son Zane, who joined the company at 21, was recognized last year as the youngest Tyson Foods truck driver to reach 100,000 safe miles.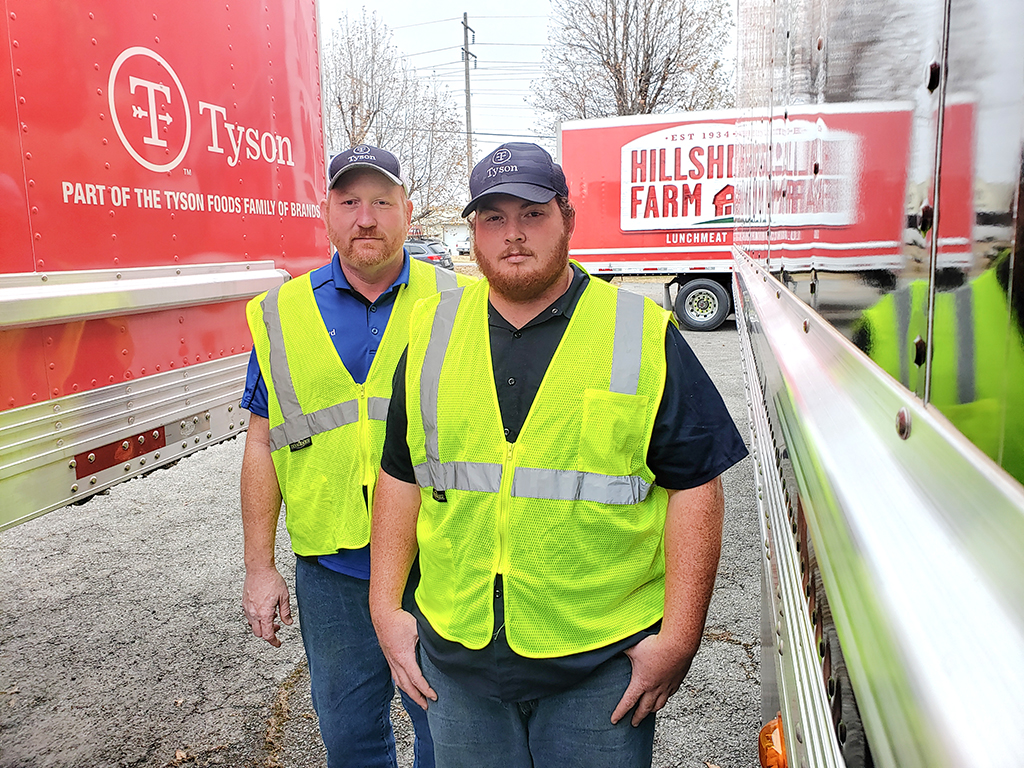 Zane trained for the job under his dad, and the pair initially traveled together as team drivers. It was a unique opportunity for them to build memories together and see the country, something they both appreciated. And, like any good dad, Loyd was able to impart wisdom about safe driving to Zane along the way.
"If you're gonna do something, be the best. And at Tyson, being the best is being the safest," Zane said.
Because of the experience of his dad, Zane recognized commercial driving as a stable option for him to pursue after high school. He and Loyd are now both running over the road as solo drivers on the same fleet based at the Springdale, AR terminal.
For Tyson Foods, teamwork and family go hand in hand – exemplified by the story of Loyd and Zane Frost. Click here to read more of their story.
The Tyson Family
It's been a point of pride to be a family company since John W. Tyson started hauling chickens in 1935. We're proud to be keeping that spirit alive today in our team members and in the four generations of the Tyson family that have been involved in the business.
In the early 1930s, John W. Tyson moved his family to Springdale, Arkansas, in search of new opportunities. He began delivering chickens to larger markets in the Midwest, like Chicago and St. Louis, and the rest is history.
At 23, Don Tyson, Mr. Tyson's son, joined the company as general manager and was the second generation of Tysons involved in the business. Don went on to become vice president, take the company public and began an odyssey of acquisitions that grew our company in every direction. He took over as president in 1966, chairman and CEO in 1967 and remained active in the company and on the board for many years until he passed away in 2011.
The grandson of our company's founder, John H. Tyson, devoted his entire career to Tyson Foods serving in many roles, including chairman and CEO. Like his father and grandfather, he led our company through another period of dramatic expansion, including the IBP and Hillshire acquisitions. John continues to serve as chairman of our Board of Directors.
John's son, John R. Tyson, joined our company in 2019 and serves as chief sustainability officer, leading our efforts to support a more sustainable protein system. John has a passion for sustainability as well as the leadership skills to help continue the momentum his family has built.
John's daughter, Olivia Tyson, serves as president of the Tyson Family Foundation. Established in 1970, the foundation supports community efforts for education, health, agriculture, business and youth as well as programs for team members and their families. The foundation has enriched the Northwest Arkansas community through grants to Arkansas Children's Hospital Northwest, Crystal Bridges Museum of American Art, The Don Tyson School of Innovation in the Springdale Public School System and many other projects.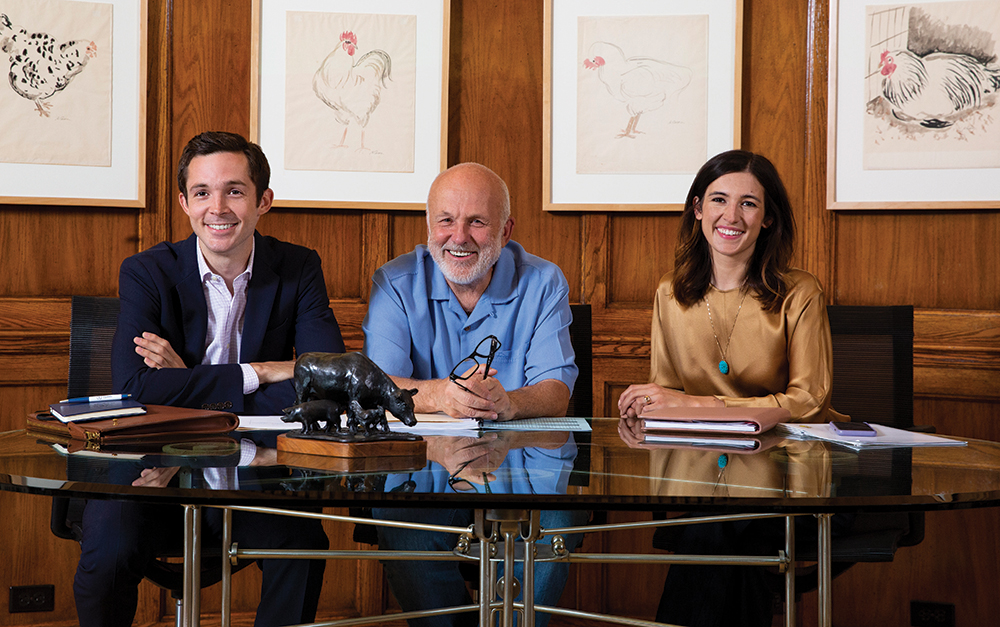 Barbara Tyson, Randal Tyson's widow and Don Tyson's sister-in-law, has served on the board since 1988. She provides the board with in-depth insight into our company's business and operations developed through years of experience as a Tyson Foods' director and corporate officer. She became a consultant to the company in 2002, after she retired as a Tyson Foods' vice president. Barbara has helped the board develop the company's long-term strategy and build Tyson Foods into a worldwide leader in meat and poultry production.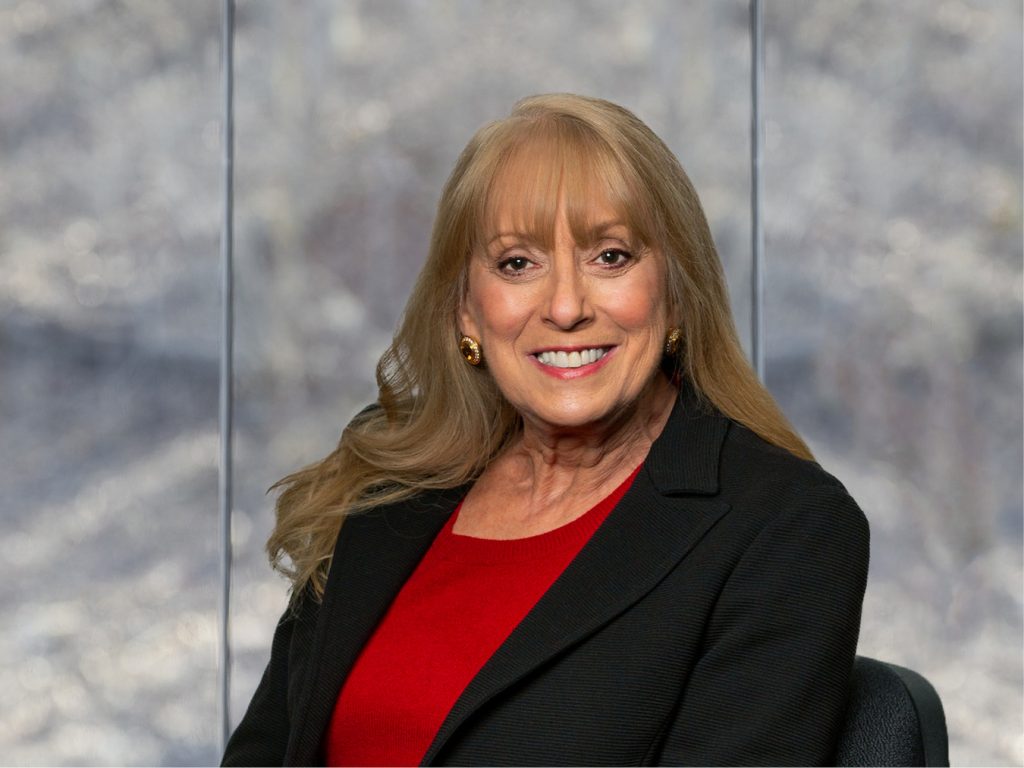 For more history on the Tyson family and why we believe a strong connection with our past will help inform our future as a company, visit this page.
Tyson Foods' Chattin Cato contributed to this content.