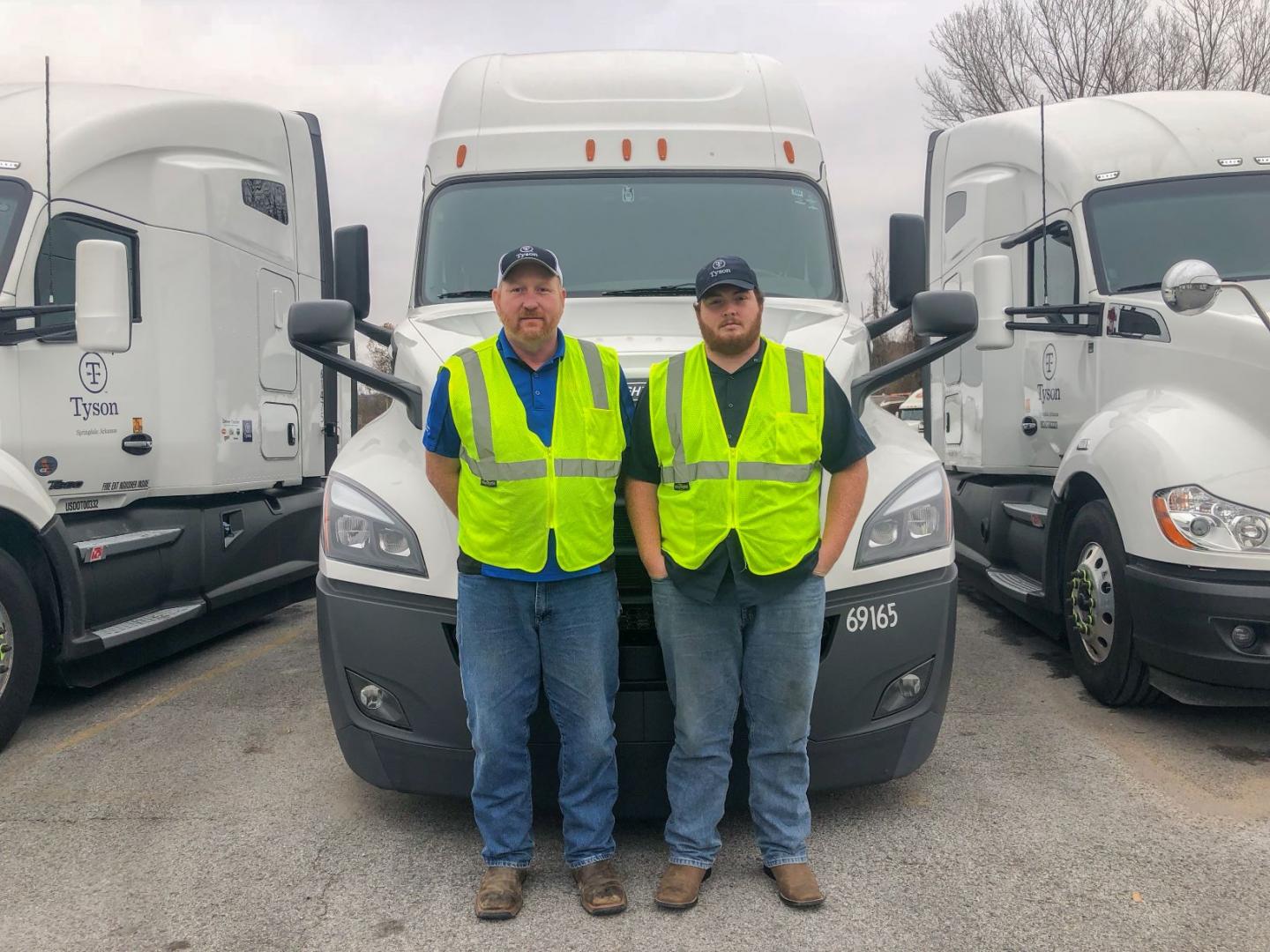 For the Tyson Foods father and son driving team Loyd and Zane Frost, commercial driving is more than a job: it's the experience of a lifetime, a way to see the world and a continued tradition of family and stability, together.
Zane's stories of driving cross-country with his father highlight the excitement of traveling through different states and seeing new landscapes, especially the mountains. Loyd, a seasoned driver, is quick to express appreciation for the time he gets to spend with his son as they share the road.
Over 26 years, Loyd has completed more than 2.6 million driving miles. This February, he celebrated his fifth year as a Tyson Foods team member with more than 300,000 safe miles under his belt–the equivalent of driving from Springdale, Arkansas to Alaska more than 80 times.
Their career-driven relationship creates added bonding time for the two, with a unique focus on safety. Loyd's earned safe miles come with many lessons he's shared with Zane: don't speed, drive safely, focus on getting there–not beating "record timing." According to Loyd, he has never run into an instance where Tyson Foods didn't allow for enough time to complete the job in a safe and reasonable manner.
As the youngest over-the-road driver that Tyson Foods has ever employed, 21-year-old Zane utilizes knowledge passed down through understanding, value, and trust. Continuing down the path in driving, he'll leverage top safety training and emerging technologies to build a successful career.
For the Frosts, driving has led to a fulfilling career for Loyd, a lifetime of opportunity for Zane, and a sense of belonging to the Tyson Foods family for a father and son.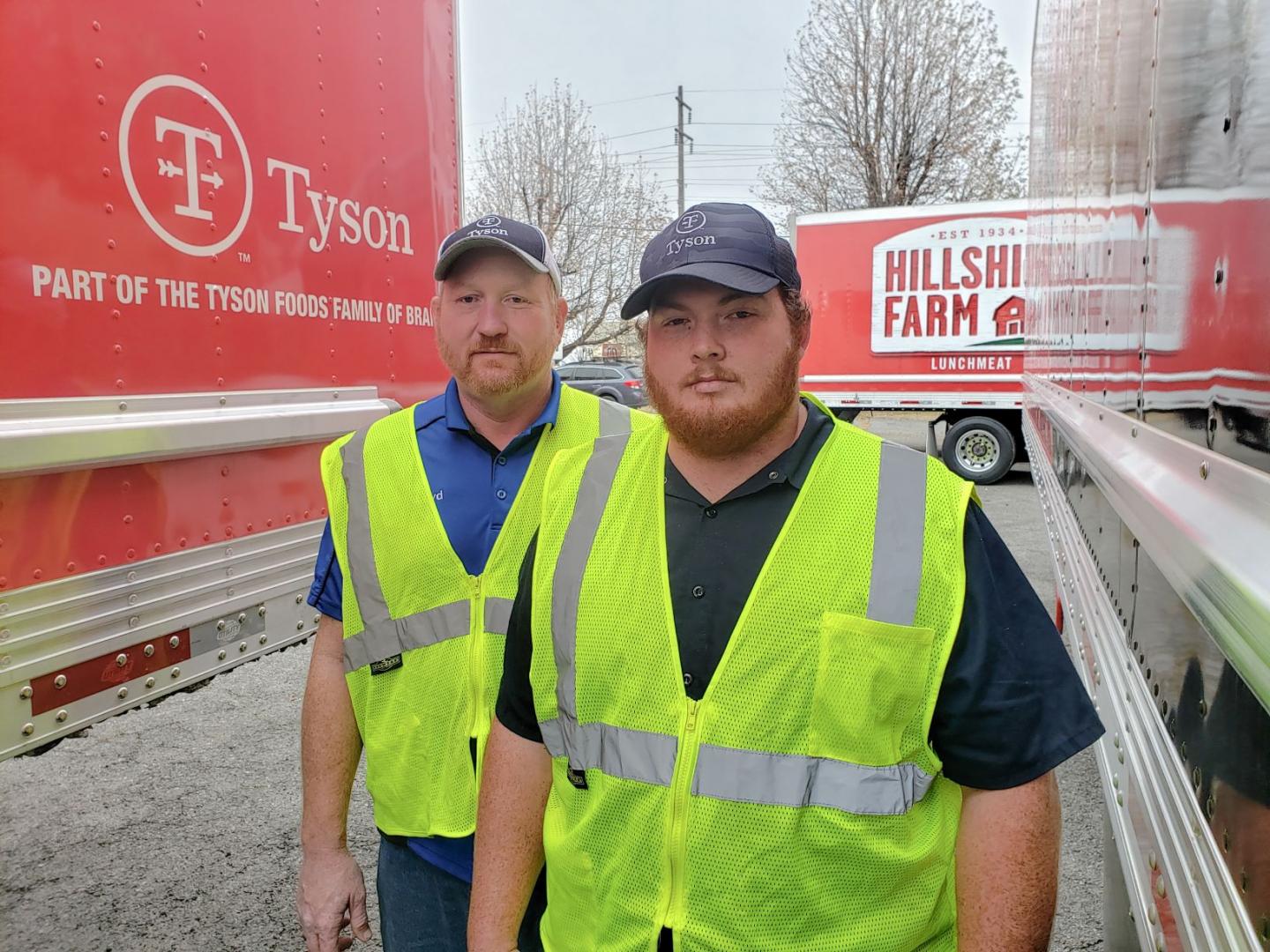 For Zane, and most others after high school, life presented three options for pursuing a career: continue on to college, join the military, or enroll in trade school. Thanks to his father, he knew there was another option: commercial driving. Even though commercial driving provides opportunity to people of all ages, backgrounds, and preference, this rewarding, stable career path is often overlooked.
But there are many reasons to consider driving for Tyson Foods.
Drivers play a critical role in our business and we keep our salaries competitive, recently INCREASING PAY BY AS MUCH AS 15%, and provide various benefits, as well as innovative technologies focused on health and safety to help ensure that we're able to attract and retain top talent. Since 2015, we've held monthly meetings with the Tyson Foods driver advisory board to maintain integrity and satisfaction across the fleet.
Tyson Foods' next-generation technological capabilities span everything from automated sensors and blind spot monitoring to driving simulators that lead to incident reduction and added confidence on the road.
Whether we're working with a seasoned driver like Loyd, or a rookie like Zane, we're constantly looking for ways to train and create safer conditions for our drivers. A couple of examples include:
THE HADLEY SMART VALVE means less strain on drivers and enables improved valve response time for extra control and easier coupling/uncoupling of trailers, among other features.
THE BENDIX WINGMAN FUSION SYSTEM provides a combination of safety technologies to deliver comprehensive driver assistance and various road-monitoring sensors.
This is just the tip of the iceberg for how we're putting safety first. For many, driving with Tyson Foods turns a career in to more than just a job.
Interested in a commercial driving career?
Learn more about joining our team today:
• MORE INFORMATION ON DRIVING FOR TYSON FOODS
• APPLY TO BE A TYSON FOODS DRIVER TODAY
• Call a recruiter: 1-800-933-6442