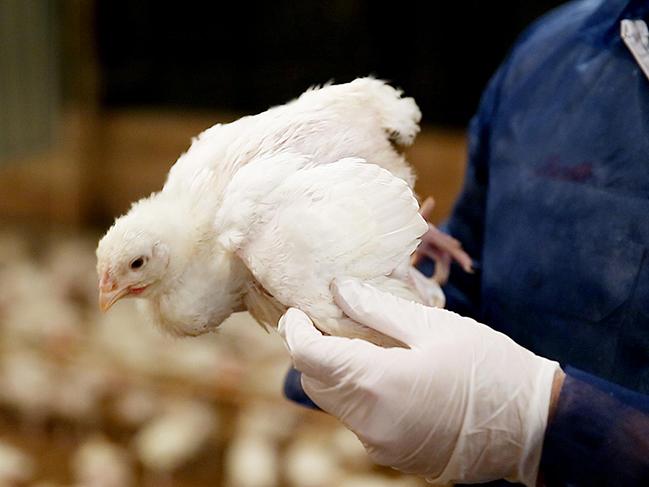 It's been just over one year since I joined the Office of Animal Welfare at Tyson Foods, and I couldn't be prouder of the passion and dedication my team brings to improve the lives of the animals raised for our company.
We have more than 50 animal welfare specialists who come to work every day with the purpose of ensuring the safety of the animals in our supply chain. Our goal is to accelerate progress and lead the industry in animal experience research and innovation, while also advancing transparency. What does this mean? Let me break it down for you.
Animal Experience Research and Innovation
We conduct animal experience research looking at a variety of different factors that contribute to animal welfare including environment and living conditions, environmental enrichments, lighting, nutrition, growth and litter management.
For example, we are currently partnering with the University of Arkansas to conduct research to determine what kind of lighting chickens prefer. Do they prefer brighter or dimmer lights? The best way to answer this is to ask the chickens directly. We're exploring this topic and letting chickens choose which lighting they prefer. We're still in the middle of our research, and I look forward to sharing the results with you.
Another example is the research done by our poultry welfare specialists, who are our boots on the ground at our plant locations. We recently asked them to take a critical look at the animals in our care, identify opportunities to improve their lives, implement a solution, and then quantify the results. These solutions were presented at our annual Poultry Animal Welfare Summit, which was held at our headquarters in Arkansas.
It was incredible to hear the impact that our specialists have made on animal welfare. Projects ranged from solutions to reduce potential injuries to education and training for people who transport birds to our plants. The discussion in the room about solutions and impacts was full of energy, and a clear demonstration of our team members living our purpose of raising expectations of the good food can do.
Transparency in Animal Welfare
We know that consumers want to know where their food comes from, and we're committed to transparency. Our industry leading third-party audit program, FarmCheck, ensures that livestock and poultry suppliers are monitored for proper animal access to food and water, a comfortable environment, human-animal interaction and worker training. The results of the audits are published annually in our SUSTAINABILITY REPORT.
To strengthen trust and confidence in our beef program, we recently announced that by January 1, 2019, all cattle suppliers to Tyson Foods, will be required to be certified in Beef Quality Assurance, a national program that focuses on educating and training cattle producers on best management practices and provides tools for verifying and documenting animal husbandry practices. We are also partnering with PROGRESSIVE BEEF, a total cattle quality management program with third party verification focused on cattle care and handling, responsible antibiotic use and sustainability.
In our poultry business, we've implemented the U.S. meat industry's most EXPANSIVE THIRD-PARTY REMOTE VIDEO AUDITING (RVA) system to assist in monitoring live bird handling during catching and in our poultry plants, and ensure birds are handled in a humane manner as they are transported to our facilities.
Finally, we participate in the BUSINESS BENCHMARK ON FARM ANIMAL WELFARE annually, a third-party assessment of company practices and reporting on farm animal welfare.
My first year at Tyson Foods went by quickly. Our team is dedicated, and we have some exciting work planned for the coming year that will allow us to accelerate on our path to becoming leaders in animal welfare, research and transparency.
Published November 1, 2018.