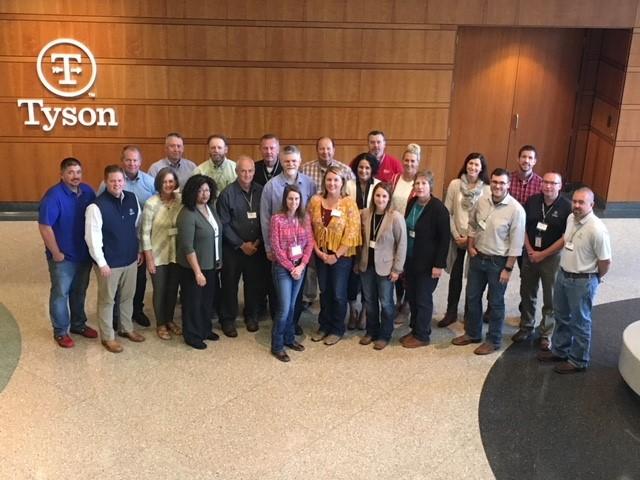 This week, 15 experts in animal welfare from all over the world met to help guide the next chapter of Tyson Foods' animal welfare journey. These esteemed veterinarians, scientists, culinary experts, and more contribute to a new roster and revitalized agenda for the TYSON FOODS ANIMAL WELL-BEING ADVISORY PANEL.
As we learn more about new opportunities to lead in animal care and welfare, we're able to gain a greater perspective on how we solve for its challenges, both old and new. With the addition of nine new members, the evolution of this panel reflects our desire to collaborate with outside experts and resources to push us in new directions and help us deliver on our purposes of raising the world's expectations of how much good food can do.
Originally founded in 2013 as a key pillar of FARMCHECK™, the panel's expertise reflects the company's dedication to proactive thought leadership and adoption of best practices across its supply chains, now more than ever. The panel's guidance to my team and other stakeholders will provide us critical insight to cutting-edge technologies and research that will help us develop and advance industry leading programs.
Our Animal Well-Being Advisory Panel Members Include:
ERIN BRENNEMAN, Day One Farrowing Specialist, Brenneman Pork
Doug Britton, Ph.D., ATRP Program Manager and Senior Research Engineer, Georgia Tech Research Institute*
ANNE BURKHOLDER, Farmer and Beef Marketing Group contributor
Candace Croney, Ph.D., Professor and Director of Center for Animal Welfare Science, Purdue University *
Paul DeFoor, Ph.D., Executive and Board Member, Cactus Feeders*
Bob Dykhuis, Founder, Dykhuis Farms*
Cindy Goulet, Founder, Florentyna's*
Temple Grandin, Ph.D., Professor of Livestock Behavior and Animal Welfare Advisor, Colorado State University
Elisabeth Hagen, M.D., Independent Consultant and Former Under Secretary, USDA
DOROTHY MCKEEGAN, Ph.D. PDRA, Senior Animal Health Lecturer, University of Glasgow*
ALEX JUSTICE MOORE, Chief Development Officer, DC Central Kitchen
Tom Parsons, V.M.D. Ph.D. B.A., Professor of Veterinary Medicine, University of Pennsylvania*
Janice Swanson, Ph.D., Professor and Director of Animal Welfare, Michigan State University
Daniel Thomson, Ph.D. DVM, Professor of Production Medicine and Epidemiology, Kansas State University*
Bill Tom, Livestock Marketing Executive Vice President, United Producers, Inc.*

*New members
I'm proud of the work my team has done to bring this panel together and I'm excited to share the new programs and pilots that result from their input.
Individual bios of panel members are available HERE.
Earlier this year I had the chance to share my story, and excitement, for the opportunities Tyson Foods' culture and transformation has allowed as I've led a department exclusively dedicated to animal welfare, FIND THAT STORY HERE.
Tyson Food's 2017 Sustainability Report, including the impact of FarmCheck™, is available at TYSONSUSTAINABILITY.COM.
UPDATE: Based on immediate feedback from our panel, we've decided to rename ourselves "The Office of Animal Welfare" to better reflect the work we are doing to be leaders in animal welfare, transparency and research.
Published August 23, 2018.