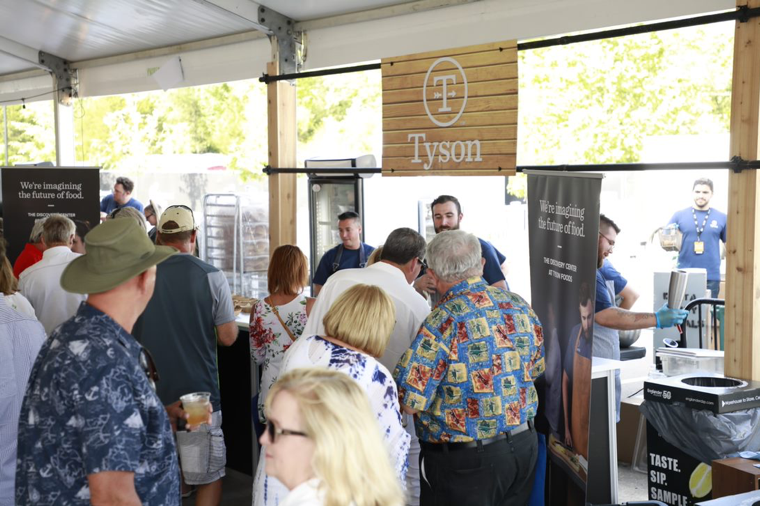 Watch out Los Angeles Food and Wine Festival. Move over Maine Lobster Fest. Take a knee, Taste of Chicago. Northwest Arkansas is here to take a BITE out of the foodie and culinary festival culture.
Last month Bentonville, Arkansas hosted its fourth annual BITE NW Arkansas food and drink culinary festival. Hailed as the region's premiere foodie experience, BITE invites locals to taste, sip, sample and discover the best of the culinary community in Northwest Arkansas. The event showcases more than 60 restaurants and breweries and draws a crowd of nearly 7,000 hungry attendees, briefly turning Northwest Arkansas into a hotbed of culinary innovation.
As a title sponsor for the past three years, Tyson Foods has become a staple at the festival. On top of sending our professional chefs to 'wow' the crowds with exciting and innovative new projects, Tyson Foods supplies all the protein to participating restaurants that show up to bring the heat at BITE.
This year, our chefs showed off their creative skills in the aptly-named Tyson Tasty Tent by crafting unique BITE-sized dishes including Flame-Grilled Jerky, Mu Ping Bacon, Umami Bomb and the Millionaire's Dog.
The three-day experience took place at 8TH STREET MARKET, a community-focused food hub that brings together agriculture, creativity and entrepreneurialism. The 8th Street Market is also home to Brightwater: A Center for the Study of Food, which aims to educate students and professionals by combining culinary skills with the ability to recognize and respond to issues in the food system.  
Published June 29, 2018.