When it comes to making a palate-pleaser for the most pint-sized food critic, the thought of getting two thumbs down can be a bit, well, spooky.
Let's face it: kids can be picky when it comes to what's on their plate. Meeting the trifecta of something that looks good, tastes good and is good for you can be a daunting task.
So this fall, we're having some fun in the kitchen with some ghastly good eats that are Halloween-inspired and sure to please even your pickiest of eaters.
To help us out, we reached out to a few of our kid foodie experts: Tripp Curtis and Brook Thomas manage channel marketing for our Tyson Foodservice K-12 program, which provides a variety of nutritious offerings to school cafeterias around the country. And as luck would have it, they're both big fans of Halloween.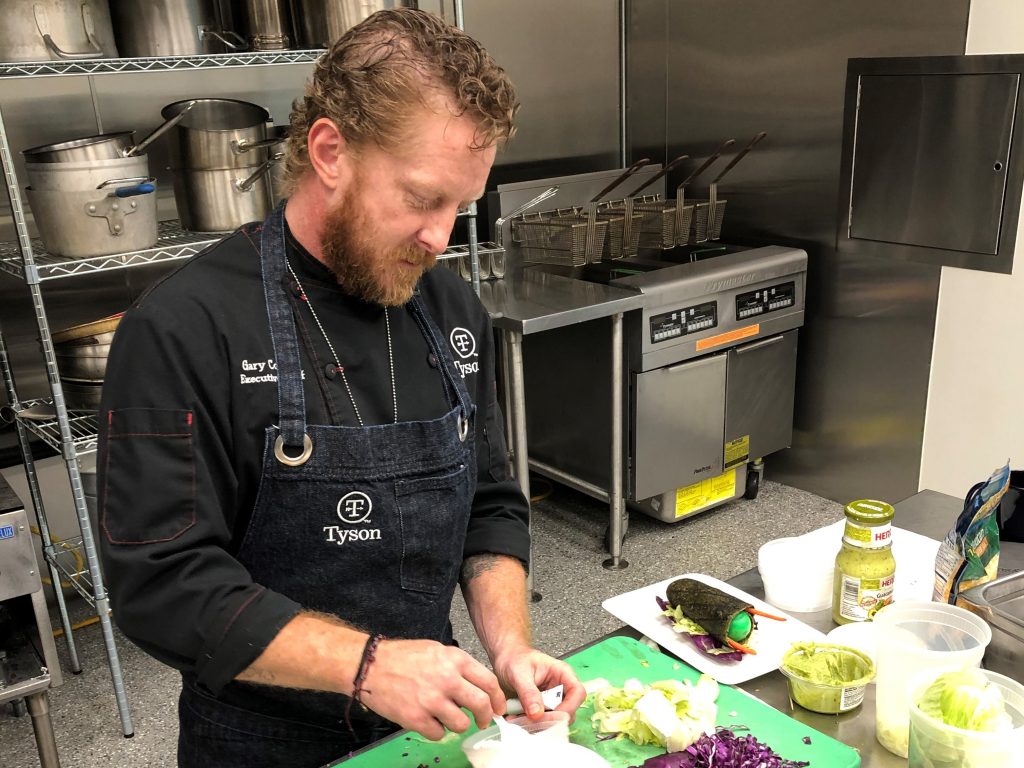 Halloween is Brook's favorite holiday (sorry, Christmas!), because he loves how it sparks imagination and inspires people to mix creativity with a little bit of creepy. It's a family affair at the Thomas household—when the air starts to bite and the leaves turn, everyone's spirits are instantly lifted. He's instilling his love for Halloween in both of his daughters, as they love decorating for the holiday with mums, pumpkins and skeletons!
For Tripp, fall has always been particularly exciting since it signals the end of the hot Arkansas summer and the beginning of fun, outdoor activities that are better enjoyed in cool weather. With a three-year-old and a six-year-old, Tripp loves watching the excitement for Halloween build as his kids prepare for a night of staying up late, working on their door-to-door sales skills, and enjoying unlimited candy! Plus, what parent doesn't love dressing their kids up in elaborate costumes that serve no other purpose than to repeatedly point out how cute they look—just like our parents did to us!
We couldn't have put this all together without a chef, and Brook and Tripp knew exactly who to recruit: Chef Gary Corbin, a Tyson Foods chef admired for his go-with-the-flow attitude and his ability to jump in headfirst with anything the team throws at him while consistently delivering on creativity.
Check out the scarily scrumptious recipes they came up with to add some fun to any party spread this Halloween
All Eyes on You Korean BBQ Wrap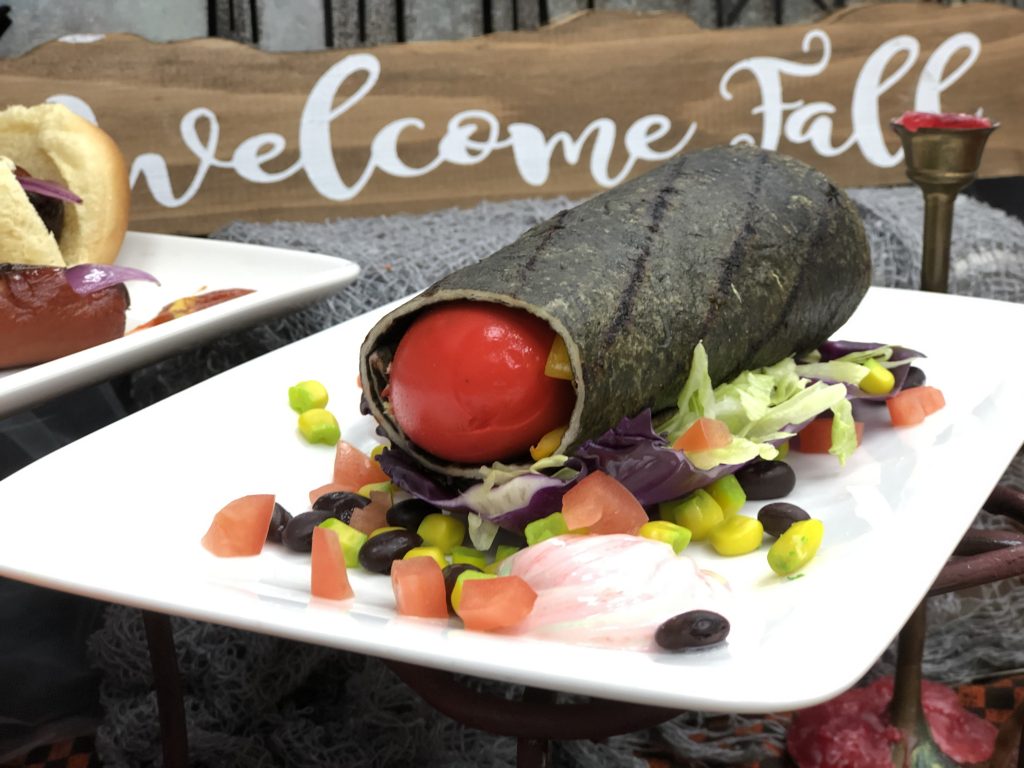 Wrap:
Start with your favorite colored tortilla. Toss sliced or chopped chicken in your favorite BBQ sauce (here we've used our Spicy Korean BBQ Flavored Dark Meat Chicken Strips with Korean BBQ Sauce). Fill your tortilla with a lot or a little, and save room for fixings like shredded lettuce, sliced peppers, black beans and corn.
Eggs:
Place each peeled, hard-boiled egg in ½ cup of water. Add 10 drops of food coloring and a teaspoon of vinegar and let the eggs sit until they reach your desired color.
With a toothpick, secure each egg 'eye' at an open end of each wrap. Add a dollop of sour cream and a black bean on each egg to have a snack that stares back.
Cute and Creepy Quesadillas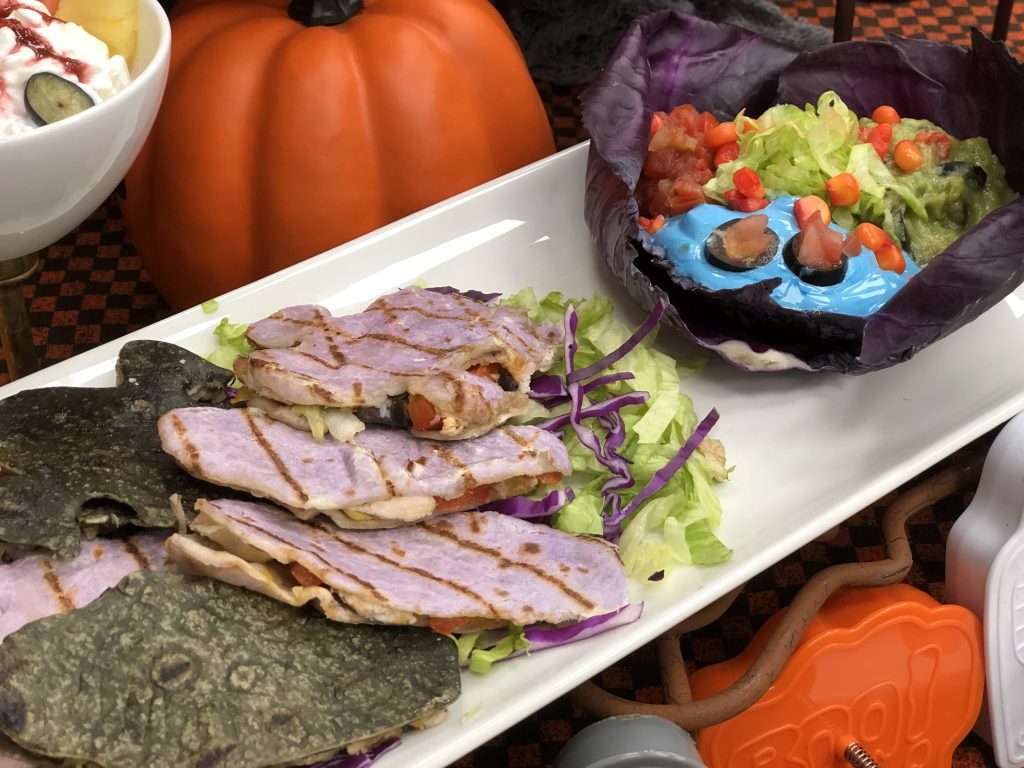 Quesadilla:
Using different colored tortillas, fill each with pulled chicken (here we've used our Reverse Blend Pulled Chicken), your favorite cheese with great melt-ability, and some diced tomatoes and shredded lettuce. Place on a griddle; flip when the cheese begins to melt.
Once your quesadillas have cooled, use fun fall- or Halloween-themed cookie cutters to create seasonal and spooky shapes.
Dipping sauce:
Put guacamole sauce (homemade or store-bought) in a festive bowl or ramekin. Create a black bean brine by reducing the sauce you find in a can of black beans.
Use a toothpick or a squirt bottle to create a spider web, or any other design to celebrate the season, on top of the sauce.
Frightening Hot Dog Fingers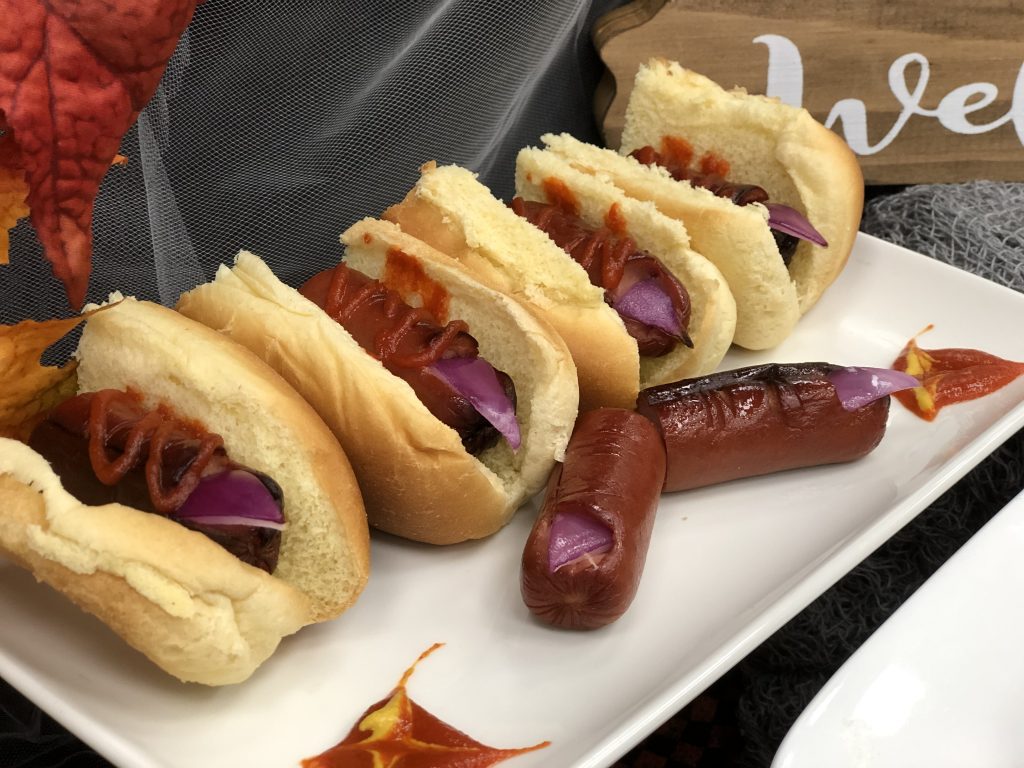 Cut several hot dogs in half, width-wise (here we used Classic Ball Park Franks). Scour one side of each hot dog to make 'knuckles' for your fingers. Cut out a 'nailbed' at the rounded tip of the hot dog half to place your onion 'fingernail.'
Throw the hot dogs on the grill or cook using your preferred method.
Slice a red onion into small triangles to create your 'fingernails.' Toss onions in a skillet to give them a slight crisp and char.
When the hot dogs and onions have cooled, use ketchup to adhere the 'fingernails' to your hot dogs. Place in halved buns and serve with ketchup and mustard.
Mortifying Cottage Cheese and Yogurt Monsters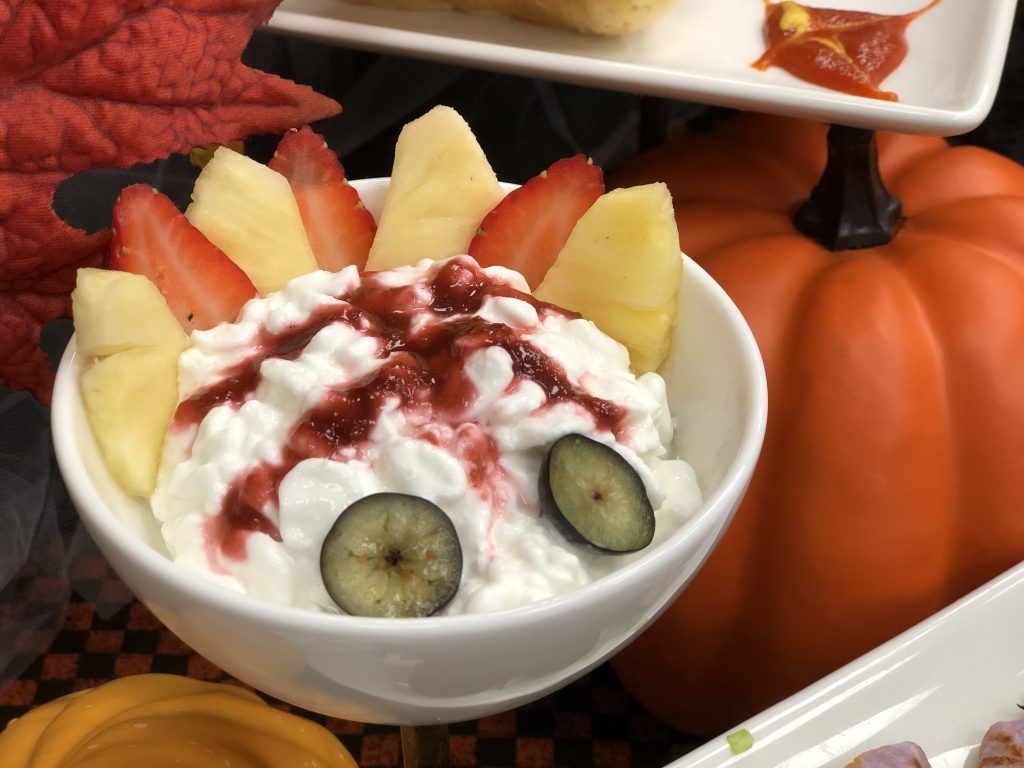 Fill individual serving bowls with either vanilla yogurt or cottage cheese. Use fruit of your choice to create monster 'faces.' Pineapple triangles for hair or fangs, blueberries or grape slivers for eyes, and top with an oozing drizzle of strawberry purée.
Fresh-from-the-Patch Fruit Quesadilla
Use orange tortillas for the perfect pumpkin hue. Cut up some of your favorite fresh fruits. We've used bananas and strawberries.
Create a sauce using strawberry purée and vanilla yogurt. Cover the fruit with a generous amount of sauce to hold the quesadilla together.
Top with a sliced strawberry (stem included) to make your 'pumpkin' stem.