For the past 25 years, I've been dedicated to helping Tyson Foods team members succeed on the job. We've made a lot of progress, but I'm especially proud of our more recent efforts to improve workplace safety and compensation and give our frontline team members a greater voice in the workplace. Our safety culture resonates throughout our company, from the board room to the production floor. We've come to realize to be truly successful we must communicate, not dictate. To live out our commitment to empowering our hourly team members every single day, we've taken meaningful steps to empower our team members to think about and address safety more proactively
We've always had health and safety policies and programs but we're doing a better job of engaging everyone – from the hourly team member working on the production line to the plant manager who oversees day-to-day operations. We've also been more focused on listening to our frontline workers, empowering them to help lead and addressing their questions and concerns.
Fewer Illnesses and Injuries
Tyson Foods' total recordable injury and illness incident rate has decreased for the past three consecutive fiscal years due to a combination of factors. In 2015, we launched a company-wide initiative to improve workplace safety, which included increased awareness, changes to our practices, and improved communication. We have almost 600 health and safety staff members across the company focused on training, safety audits, team member efficiency, and improving our culture to listening to hear and responding with action. We've also evolved our approach, more closely tracking, measuring and analyzing the root causes of workplace injuries and illnesses so we can do a better job of preventing them in the future.
We're giving frontline workers more opportunities to give us candid transparent feedback so we can get better together:
Worker Voice
Safety audits that seek input from frontline workers on plant safety committees that are empowered, engaged and driving the implementation of safety practices and continuous improvement.
An Ethics Help Line that workers can call with questions and concerns if they don't feel comfortable speaking with their supervisor or plant management.
Social compliance audits in our plants, conducted by an outside firm, that may include worker interviews about topics such as line speed, staffing and breaks.
Our safety committees are empowered, engaged, and driving the implementation of safety practices and continuous improvement.
As part of our conversations with team members, we want them to know they can stop the production line for safety reasons, without fear of retaliation. We also emphasize they have a right to reasonable time for restroom breaks and do not tolerate the refusal of requests to use the bathroom.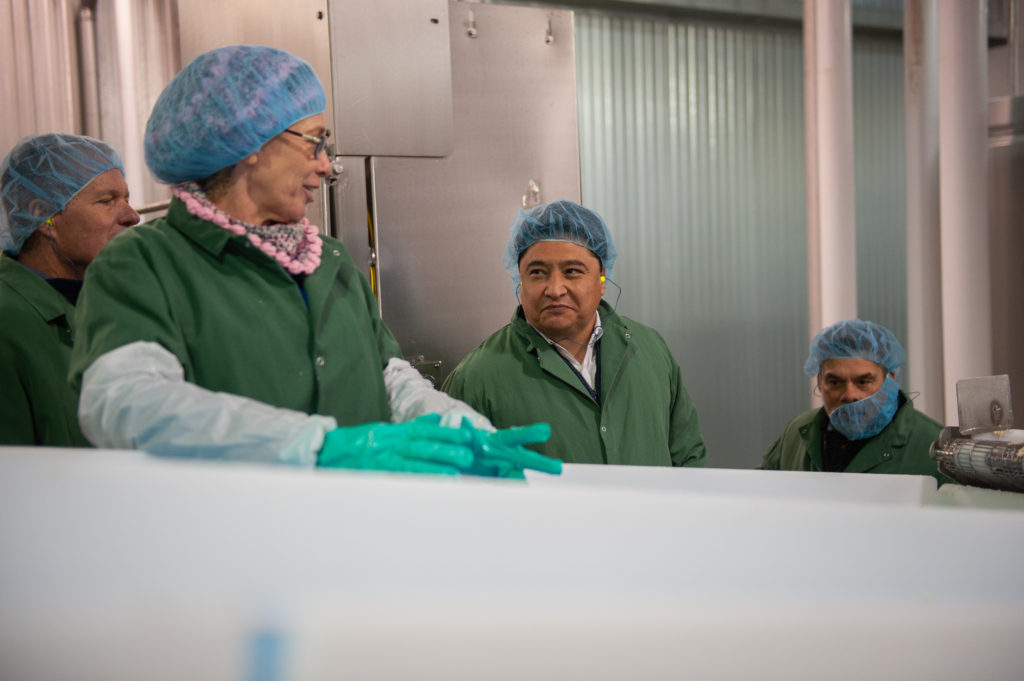 Improved Pay and Benefits
We're continually updating wage surveys and cost-of-living reviews in the communities where we operate, to ensure we're properly investing in our team members and remaining competitive. We've implemented pay increases in recent years, moving our average hourly pay to about $15. Our benefits include health, life, dental, vision and prescription drug coverage, as well as paid vacations and holidays, a 401(k)-retirement savings program and stock purchase program.
Collaboration and Transparency
In an effort to continue to grow our perspective, we've also been collaborating with the United Food and Commercial Workers (UFCW) union as well as Oxfam America on new approaches to taking care of our team members.
As Oxfam recently noted, "Oxfam welcomes the steps Tyson has taken to protect and reward the thousands of people in its processing workforce. We also encourage the company to go further toward full transparency; and urge other companies in the industry to step up to Tyson's level of responsibility, commitment and engagement."
Continuous Improvement
I'm proud of the strides we've made to help keep our team members safe, healthy and happy in the workplace. We care about our team members and have always been committed to supporting them, but we also want to do better. We are making significant progress in strengthening our relationship with our team members by focusing on communication, continuous improvement and collaboration. As we move forward, we will continue to be guided by our Core Values, Code of Conduct, Team Behaviors (also known as our 5Cs) and Team Member Promise, which outline team member rights, benefits and responsibilities.