DEBRA VERNON, Senior Director, Corporate Social Responsibility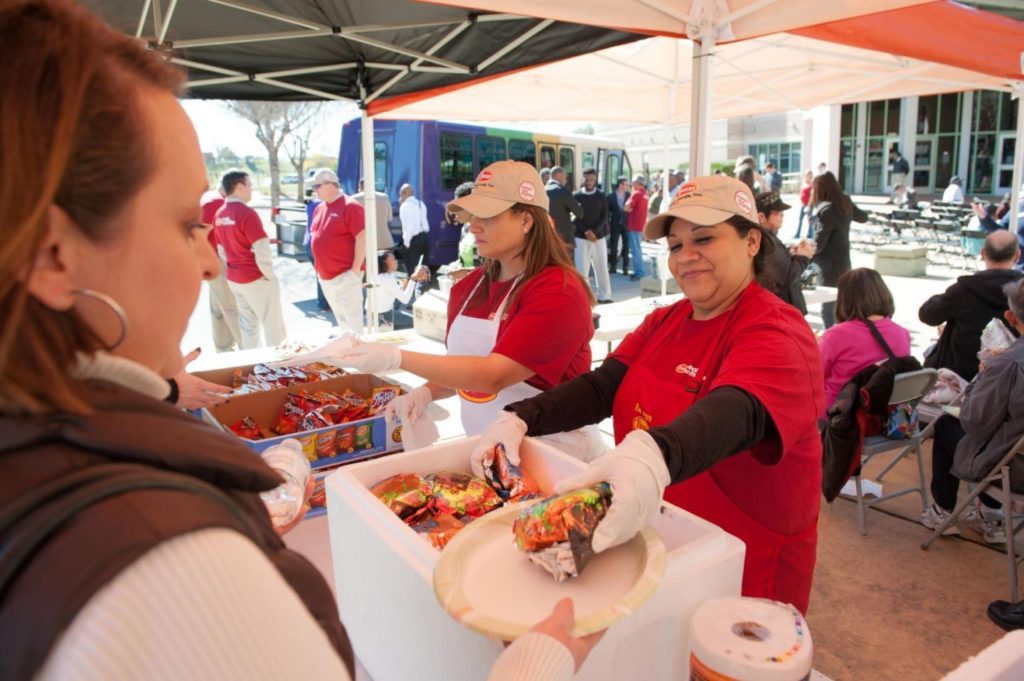 Caring for our team members and our communities is part of who we are. In honor of GIVING TUESDAY, I wanted to share a few of the ways Tyson Foods and our team members are giving back to the causes we care about.
As the largest food processing company in the U.S., Tyson Foods supports hunger relief in a big way. In 2015, we put a stake in the ground when we pledged $50 million in cash and in-kind donations over a five-year period to fight hunger. That pledge is known as the "50-in-5" commitment.
Three years after we made the commitment, we are less than $5 million away from reaching our goal. As of the end of our 2018 fiscal year, Tyson has donated more than $45,875,000 toward hunger relief in the form of product donations and charitable grants.
Our contribution grew nearly 40 percent in 2018 alone, with donations totaling more than $17.3 million.
These contributions take many forms:
We've teamed up with strategic nonprofit partners to provide children with the nutrition they need while also growing our business. Examples include our social enterprise projects with NO KID HUNGRY and ONEEGG.
We also awarded grants to strategic FEEDING AMERICA food banks that serve our Tyson communities. Some grants help address urgent supply needs through short-term feeding programs. Others improve the efficiency of the food banks' operations so they can better distribute food.
2018 also brought a couple of catastrophic disasters in the form of Hurricanes Florence and Michael. Our Meals that Matter disaster relief team deployed cook teams and volunteers to North Carolina, Georgia and Florida. Here team members served and provided well over 2.5 million meals, the equivalent of 625,000 pounds. And after the destructive California wildfires this month, we donated a truckload of pet treats to split between two large animal shelters in impacted communities.
Through our Miles that Matter program, for every mile a team member walks, runs or cycles, the company donates a pound of protein to area food banks. This season, our teams logged enough miles to donate 275,000 pounds of protein to local hunger relief agencies in our corporate communities.
The spirit of giving is in our team members
Our team members not only participate in corporate-sponsored hunger initiatives, they generously donate to the causes they're passionate about.
Through our Giving Together matched giving program, our team members have donated more than $250,000 to the causes of their choice. With eligible company matches, that's nearly $450,000 in support of the causes and charities they care about.
Since the program began in March 2018, the total donations have increased an average of nearly 10 percent each month.
There are hundreds of charities to choose from, but these are the top five categories that were near and dear to our team members' hearts in 2018:
Education: Schools, colleges, teachers, and students. Examples include local schools, universities, and trade schools.
Human Services: Organizations supporting children and families, youth development, people with disabilities, senior citizens, and more. Examples include children's shelters, rescue missions, hospices and credit counseling.
Philanthropy/Volunteerism/Grantmaking Foundations: Organizations connecting volunteers with causes. Examples include the Cancer Challenge and local chapters of United Way and the BOYS AND GIRLS CLUB.
Health: Organizations dedicated to treating diseases and disorders, providing medical services and treatment, performing medical research, and providing patient and family support. Examples include THE MAYO CLINIC, Children's Miracle Network, and RONALD MCDONALD HOUSE.
Crime and Legal Services: Organizations that represent and protect vulnerable people in our communities. Examples include CASA, mediation centers, safe houses, and more.
These are just a small sample of the types of causes team members can support. With the holiday season ramping up, we can expect to see even more examples of caring in our communities.
I'm excited about the progress we've made toward our 50-in-5 goal. I'm proud to work for a company that cares so much about our team members and our communities. And I'm proud to work alongside team members who are so dedicated to lifting our communities up. Together we are truly raising the world's expectations for how much good food can do.
Published November 27, 2018.