With the release of our 2018 Tyson Foods Sustainability Report this month, we're taking a moment to pause and reflect on our company's efforts last year to raise up the communities where our team members live and work.
What rises to the top for me is how much we on the Corporate Social Responsibility (CSR) team depend on others to accomplish our goals. We appreciate the input and support from countless Tyson colleagues, leaders, and community partners as we work together to design and implement programs that give our team members opportunities to grow, learn and thrive. It takes a village to make a real difference, and we could not do our work without you. So, on behalf of the CSR team, I want to say 'thank you' for investing your time, expertise, and commitment in partnering with us to raise up our Tyson communities.
Here are some of the ways you contributed in 2018: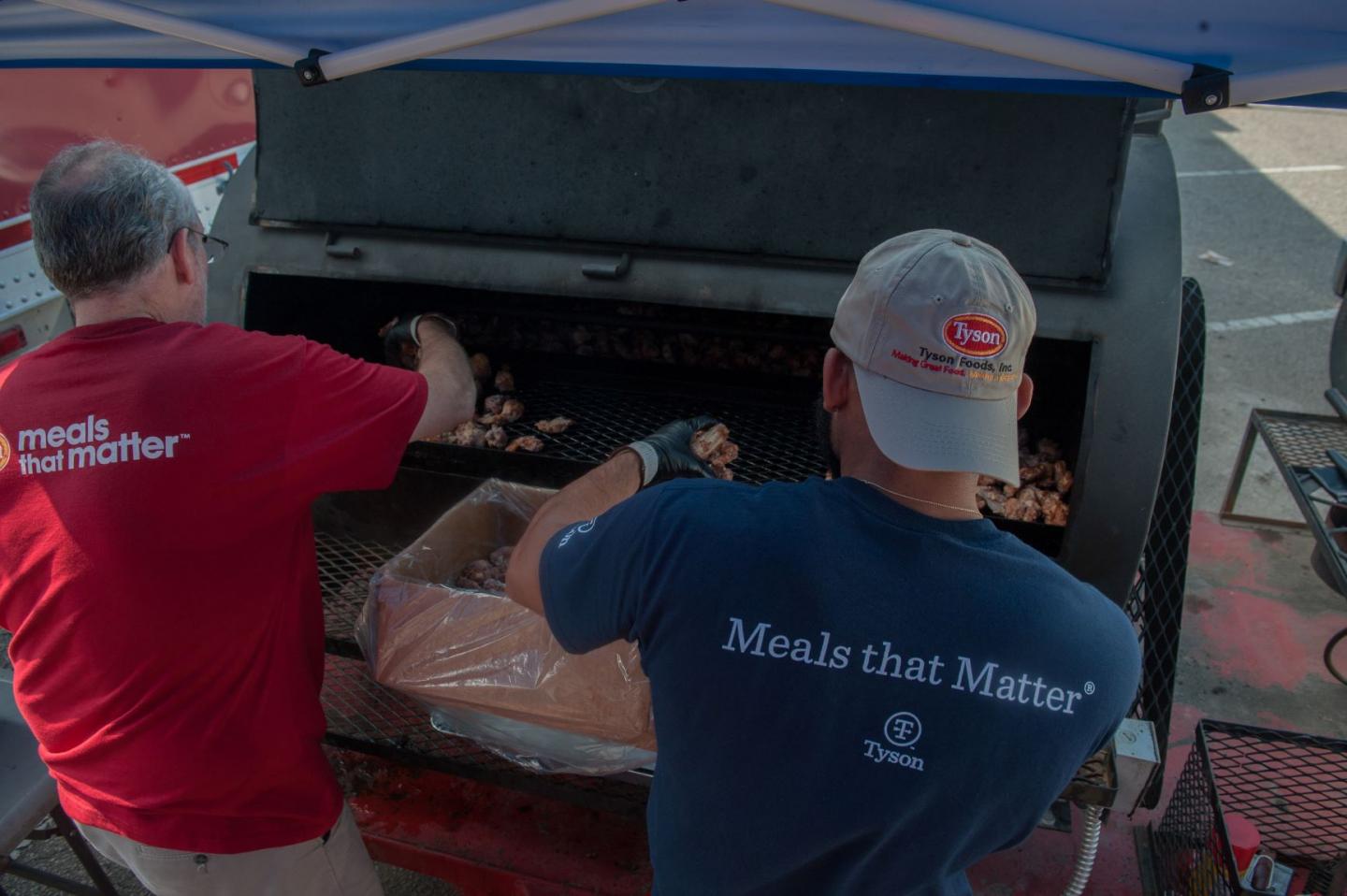 Addressing hunger insecurity by expanding access to protein
In 2015, Tyson put a stake in the ground when we pledged $50 million in cash and in-kind donations over a five-year period to fight hunger. That pledge is known as the "50-in-5" commitment. By the end of the 2018 fiscal year—only three years after we made the commitment—we were less than $5 million away from reaching our goal, having donated nearly $45.9 million toward hunger relief in the form of product donations and charitable grants. In 2018 alone, we contributed more than $14.9 million in product donations and $2.4 million in strategic grants toward this goal.
We awarded strategic grants to regional food banks to meet two key objectives: to address urgent supply needs through short-term feeding programs, and to improve the efficiency of the food banks' operations so they could distribute more food more efficiently.
We kicked off our community pantry initiative, designed to develop a best-in-class model for smaller pantries serving our Tyson communities. The program aims to increase the communities' access to protein and other healthy foods, while also enhancing the pantries' capacity to receive, store, and distribute larger quantities of food. This enables us to donate product directly to our Tyson communities; it also has proven to be a rallying point for our plants, who partner with us to develop the pantries and provide team members to volunteer at the pantries.
In 2018, we also saw a couple of catastrophic disasters in the form of Hurricanes Florence and Michael. Our Meals that Matter disaster relief team deployed cook teams and volunteers to North Carolina, Georgia and Florida. Here team members served and provided well over 2.5 million meals, the equivalent of 625,000 pounds.
Through our Miles that Matter program, team members logged enough miles to donate 275,000 pounds of protein to local hunger relief agencies in our corporate communities. For every mile a team member walks, runs, or cycles during the Miles that Matter season Tyson donates a pound of food to an area feeding agency.
Supporting market access and growth for Tyson and our subsidiaries
We continued our collaborative partnerships with hunger-related organizations, teaming up with strategic nonprofit partners to provide children with the nutrition they need while also growing our business in our respective business units. We partnered with our K-12 division and No Kid Hungry to establish afterschool meal programs in select schools, with the goal of providing more than 825,000 additional meals to kids in need while helping to grow sales in a new daypart for our Foodservice Management customers and the K-12 division. And we partnered with Cobb-Vantress and OneEgg to deliver eggs to school children in Ethiopia, Nepal, and Honduras. Not only does this program help us address food insecurity where it's needed most, but it also is helping to grow parent stock sales for Cobb-Vantress. At the end of 2018, our efforts were feeding more than 10,000 kids an egg a day in a total of six countries.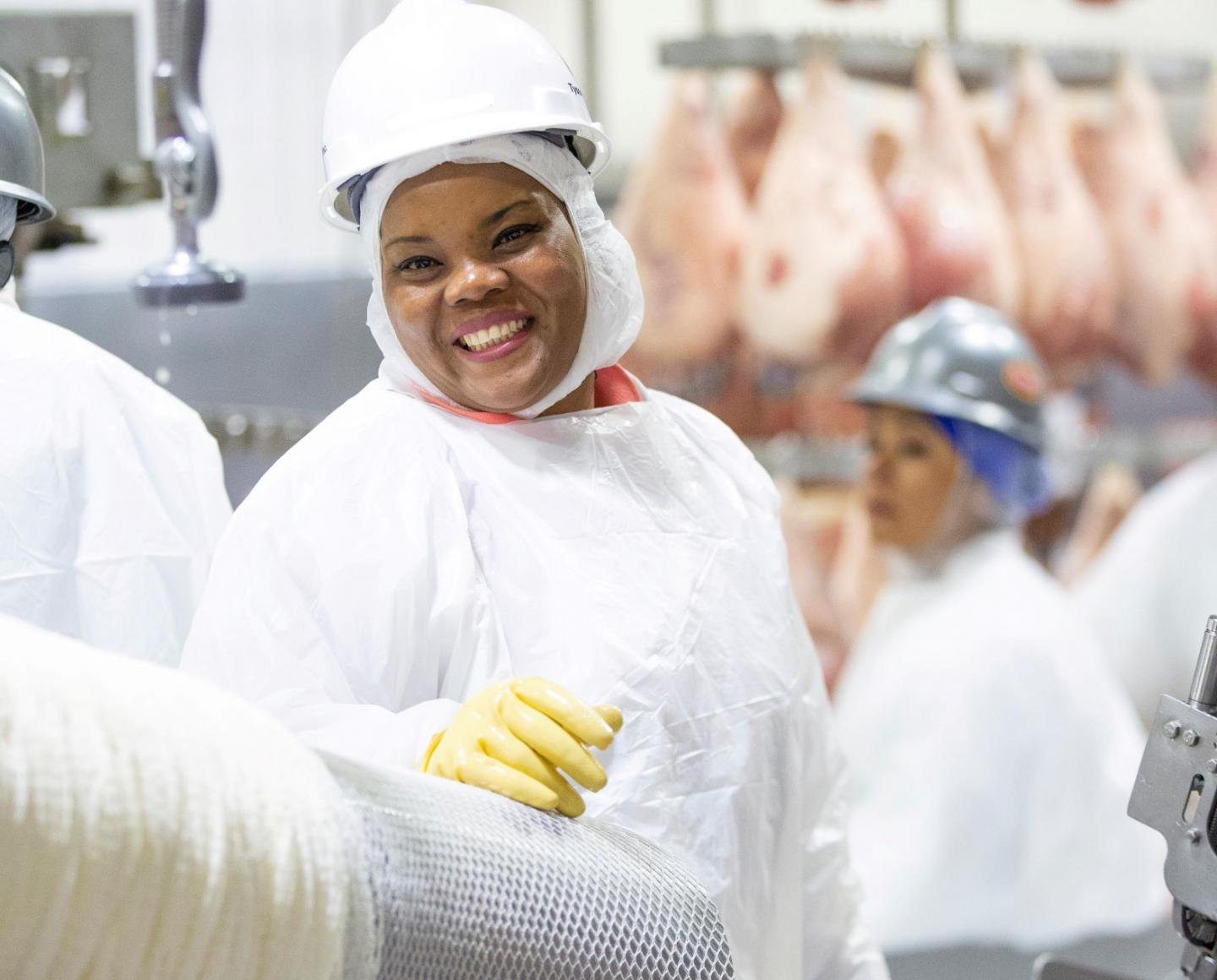 Improving the quality of life in the communities where we operate
In 2018 we conducted community social baseline assessments of our operations in more than 20 of our plant communities. The assessments examined the impacts and risks in the communities where we do business, and how we might be a better neighbor and employer of choice. We uncovered key challenges common to all plants in our footprint, and as a result, we're working on a pilot to address two of those issues—transportation and child care—in Humboldt, Tennessee, the site of a future poultry plant.
We also invested more than $600,000 in grants to community health care providers in four states to increase Somali, Myanmar, Karen, Marshallese, Burmese, and Latino team member access to health care services and health education.
And we provided nearly $650,000 in grants to help nonprofit organizations in our corporate communities become more sustainable by building their capacity to govern, become financially independent, and better serve their communities. For example, we awarded 20 scholarships to food banks to send development officers through philanthropy training; we funded 60 summer internships for college students to assist community organizations; and we financed training for local nonprofits to enhance their leadership and governance skills.
And we incorporated matched giving into our employee giving model. Through our Giving Together program, team members can donate directly to the eligible charities of their choice and request a company match of up to $1,000 per team member, per year.
Improving the stability of our hourly team members and their families
Finally, we expanded our Upward Academy program to an additional 18 facilities, for a total of 33 plants in six states by the end of FY2018. Upward Academy offers team members access to free classes in English as a Second Language (ESL), High School Equivalency (HSE), U.S. citizenship, digital and financial literacy, and other life skills.
For an in-depth look at how Tyson is supporting our team members and communities, read the Communities section of the SUSTAINABILITY REPORT.
I'm proud to work for a company that cares so much about lifting our communities up. Thank you for your collaboration. Together we are truly raising the world's expectations for how much good food can do.
Published May 22, 2019.