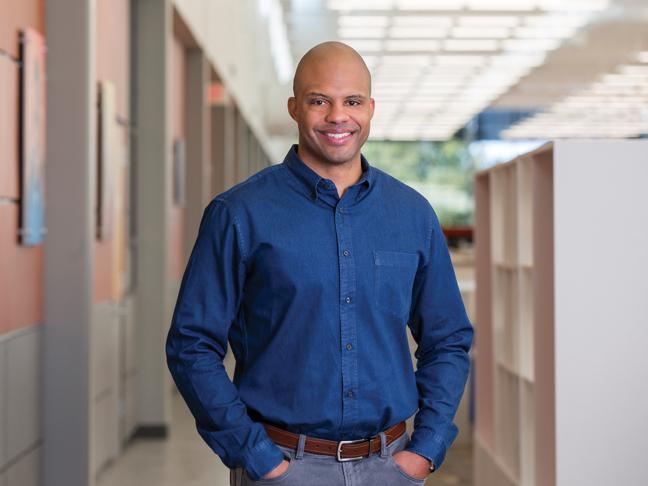 It's Earth Month and to celebrate, we're reflecting on the progress we've made, the challenges we've faced and the road ahead. Throughout the month we'll offer opportunities to hear directly from our leaders in animal welfare, the environment, workplace safety, hunger relief and more. Part of being a company committed to sustainability is being a company that also cares about transparency.
Our 2017 SUSTAINABILITY REPORT is out today, the perfect time to turn to our Executive Vice President of Corporate Strategy & Chief Sustainability Officer Justin Whitmore to set the stage for our month-long dialogue on sustainability.
What approach did you take your first year leading sustainability and strategy for Tyson Foods?
First things first: sustainability is fundamental to our strategy. For us, the two are inextricably linked. That says something about our purpose as a company.
We're looking at sustainability holistically – and realistically, too. We recognize that every action has a reaction, and that solving for one problem has the potential to create other problems. With that in mind, we've been taking a thoughtful three-step approach:
1) Listen to all stakeholders. That means farmers and ranchers, NGOs, policy makers and others in our industry. This is the only way to truly understand what we need to accomplish – and more importantly, how we can do it together.
2) Identify groundbreaking opportunities. We're looking across our five key pillars – food, animals, environment, workplace and communities – for ways to transform how we work.
3) Get going! We're sharing our vision publicly. We're investing. And most importantly, we're holding ourselves accountable for progress.

What do you see as your biggest opportunities? Your biggest challenges?
When I think about it, our biggest opportunities and biggest challenges are one and the same. The issues we're facing today are incredibly complex. The global population is growing. Our resources are shrinking. At the same time, we're seeing multi-generational shifts in taste.
Everyone has an opinion on big food. It's easy to criticize us when you don't understand our reality. We're a big company, yes – but we're made of individual faces and names. These individuals are some of the hardest-working people I've ever met – and together, we're committed to feeding the world sustainably.
We have an opportunity to help solve these complex issues in a way no one else can. Our tremendous size and scale gives us the chance to lead a coalition of farmers, ranchers and others to drive change throughout our supply chain. Perhaps the biggest challenge / opportunity for us is time. Given the complexity of the issues we face, we can't put these challenges off on future generations. The time for impact is now.
How are you being more transparent?
This is a great example of how we're continuously improving. To many, the food system has historically been opaque, with stories only coming out when an issue arises. That increases the likelihood that the average person won't understand what we do. When it comes down to it, we're proud of who we are and what we've built. We need to do a better job sharing that story, and we're constantly working behind the scenes to help bring people closer to the farms.
For instance, we've been piloting new transparency efforts. Last year, we invited the public to a grower's poultry farm through a Facebook Live event. We took questions from the audience and even left the camera on afterwards so participants could get an unfiltered picture of what goes on at a poultry farm.
We're being more transparent through these sustainability reports, too. We've been producing them since 2006, and each one has provided more transparency about who we are and how we operate. The same can be said of this year's report. This time, we're providing more details about third-party compliance audits at our plants and animal welfare audits at the farms that supply us.
What actions are you taking around the environment?
We're making significant commitments, including the largest-ever land stewardship commitment by a U.S. protein company – supporting improved environmental practices on two million acres of croplandby 2020. People may not realize that our supply chain relies on grain to feed livestock and poultry. As we looked at holistic ways we could make a real difference on the environment, this rose to the top. It's part of our larger commitment to reduce greenhouse gas emissions 30 percent by 2030.
We can also make a real difference on water use – both in our direct operations and our supply chain. Our goal: to reduce the amount of water used to produce each pound of food by 12 percent between 2015 and the end of 2020. This year, we're collaborating with the World Resources Institute to refine our goal and set long-term, context-based water targets.
What are some of the innovative investments Tyson is making in sustainability?
We know there's no one-size-fits-all approach to solving the complex challenges we face. That's why we like to say we're thinking in terms of "and, not or." Let me give you just a couple of examples.
Through our venture capital fund, Tyson Ventures, we're investing in innovative startups that are changing the game when it comes to alternative protein. That includes Beyond Meat, which makes plant-based protein, and Memphis Meats, which is developing lab-grown meats. At first, it might seem counterintuitive for the largest U.S. meat producer to invest in these businesses – but we believe all potential solutions need to be on the table. In addition to potentially making our existing businesses more sustainable, we see alternative proteins as part of the answer.
We're also working toward solutions through our newly-created Innovation Lab, spearheaded by a lean and agile team tasked with developing new products that solve for big-picture challenges – including wasted food. And they're moving quickly. In just six months, the team will design a product that is retail ready. That's 80 percent faster than our traditional approaches. The Lab's first product launch will be a line of protein snacks made from ingredients that typically go unused in the food supply chain, such as vegetable pulp and spent grain. Then they'll spend the next six months tackling another challenge.
Solving complex challenges isn't easy, but we're making progress every day. I look forward to seeing what we accomplish by this time next year, in collaboration with our many stakeholders and partners.

Published Apr 3, 2018.