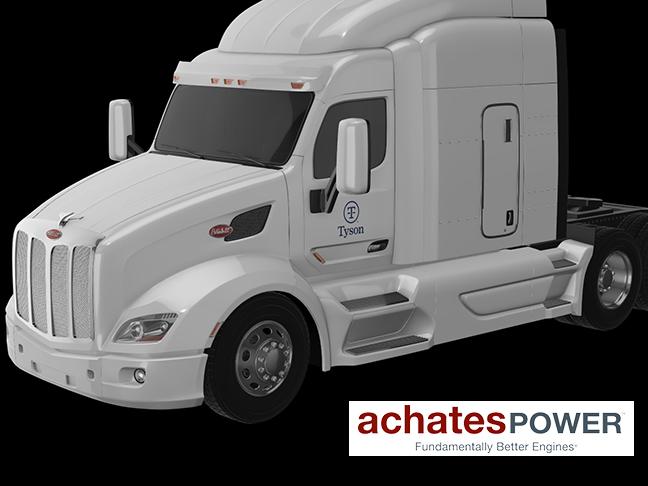 We will be providing and testing one of the Opposed Piston powered Peterbilt 579 tractors along a dedicated route through California out of Tolleson Arizona.
As owners of one of the largest private refrigerated trucking fleets, Tyson Foods and its subsidiaries are exploring ways to reduce carbon emissions and conserve energy by adopting modern versions of century-old technology.

In 2019, we plan to pilot two emerging motor technologies as part of ongoing efforts to improve fuel efficiency and reduce maintenance costs, all while improving overall profitability.
THROUGHOUT THE 1900S, US SUBMARINES, WWII FIGHTER PLANES, AND EVEN USSR TANKS UTILIZED VARIANTS OF THE OPPOSED-PISTON ENGINE. Today, Achates Power of San Diego has used the principles of those designs to develop a more fuel-efficient engine for use in modern commercial trucking. In partnership with Achates Power, the Tyson fleet will be testing the engine in a company truck that serves customers in California and will share key findings on its performance.

With the goal of enhancing overall engine efficiency, Achates Power has achieved up to a 90% reduction in nitrous oxide emissions as well as a 15% reduction in CO2. This project, administrated by CalStart of California, is funded with a $7 million grant awarded by the California Air Resources Board (CARB) to develop, install and test two Achates Power Opposed-Piston "OP" Engines into two separate Class 8 trucks. We're thrilled to have an opportunity to provide and test one of those vehicles. The Kalmar Ottowa all-electric yard tractor will be piloted at our Northwest Arkansas distribution center.
Achates Power, CalStart, and CARB HOSTED A MEDIA EVENT THURSDAY, providing an update on the project and announcing our participation.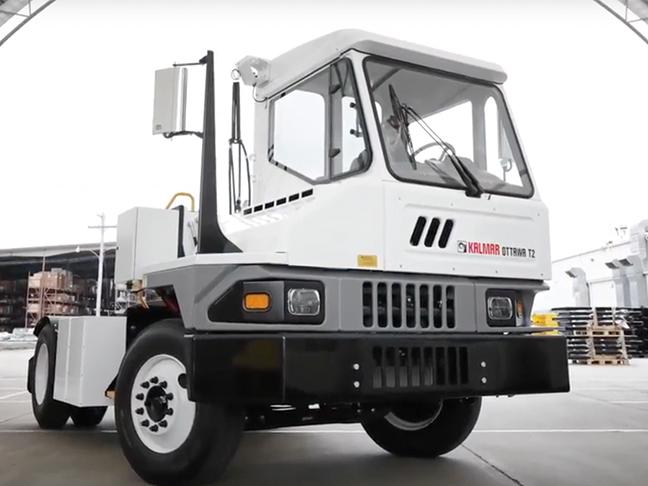 In addition to the Achates Power engine, we're also excited to begin exploring alternative fuel motor types. According to the US Department of Energy, 38% of American vehicles were powered by ELECTRIC MOTORS IN 1899. While electricity powers roughly 1% of today's vehicles, recent advances provide feasible opportunities to adopt this technology in the Tyson Foods fleet.
As early as February 2019, an ALL-ELECTRIC TERMINAL "YARD" TRACTORby Kalmar Global will be tested at our Northwest Arkansas distribution center. During this pilot, we'll be identifying ways to reduce overall maintenance expenses and equipment downtime; two of the factors that can impact total freight costs.
While there are obvious benefits to eliminating fuel emissions and costs, we're eager to put this heavy-duty motor's reliability and durability to the test.
Once completed, these pilot programs will provide insights to help guide further adoption into our supply chain.
 
Each of these initiatives is part of broad commitments by our company to:
•    Improve environmental impact 
•    Reduce freight costs
•    Promote health & safety of drivers
•    FULFILL THE CUSTOMER PROMISE 
•    Lead the industry in driver recruitment & retention
•    Increase overall efficiency & profitability
 
That's a long list of priorities, and we're planning to deliver. 
Interested in a commercial driving career?
Learn more about joining our team today:
• MORE INFORMATION ON DRIVING FOR TYSON FOODS
• APPLY TO BE A TYSON FOODS DRIVER TODAY
• Call a recruiter: 1-800-933-6442