With the holiday season in full swing, there are feasts to be prepared, gifts to be bought, but maybe most importantly, time to be spent with family and friends. And with Thanksgiving right around the corner, I'm reminded of the things I'm most thankful to have in my life.
Some of my favorite Thanksgivings growing up included a table that stretched through three rooms of our house, and as we went from person to person saying what we were most thankful for, we had to nearly shout so everyone could hear. There was a lot of family, a lot of food, and even more gratitude.
While most people associate turkey with the meat of choice for Thanksgiving, one of my fondest childhood memories was feasting on Cornish hens for the holiday. My brother and I would each get an entire hen to ourselves, giving us a sense of a little bit of luxury from a little bird.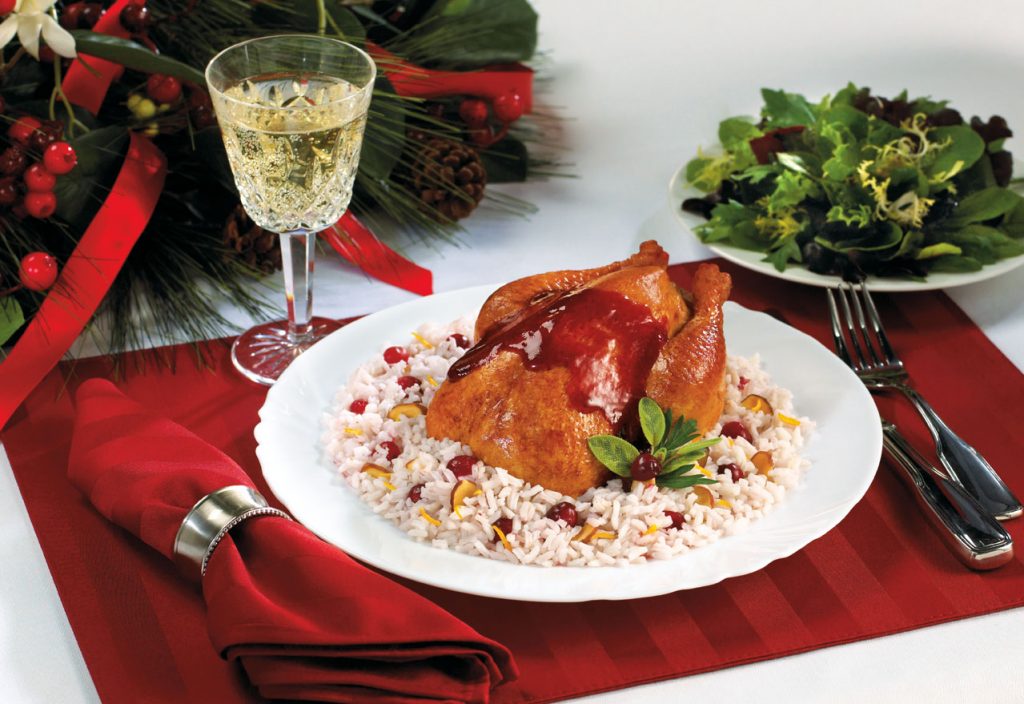 As I've gotten older, my family has spread across the country and our time together is spread thin. The Thanksgiving table has gotten shorter, and the shouts have quieted to more carefully chosen words. And our grand feast has shrunk to our favorite dishes.
With our small gathering this Thanksgiving, I wanted to bring that special feeling of nostalgia and indulgence to my family by swapping the turkey for Cornish hens. I want the birds to be cooked to perfection, but I don't want to spend the day in the kitchen while I could be visiting with my family.
Luckily, I was able to chat with a few of our chefs and got some great tips about adding flavor and saving time when it comes to cooking the perfect Cornish hen. And that's something I'm definitely thankful for this year!
How can I increase flavor impact when preparing a Cornish hen?
The Cornish hen is a favorite for chefs because cooking on the bone produces a tender, juicy and flavorful chicken.
A few tips:
Season the chicken well, roast until it reaches 165 degrees (place thermometer in the meaty part of the thigh to check) and then let it rest before cutting and serving.
If you have time, brine the Cornish for 4-6 hours (we've included a recipe below).
Roast over winter vegetables to take advantage of the chicken's rendered fat. A favorite winter vegetable blend includes: carrot, turnip, acorn squash, rutabaga, honeycrisp apple and yellow onion. Season and roast the vegetables separately; mix with the chicken and broil just before serving. Add more apple if you like it sweeter!
Smoke it!

Season Cornish hens with your favorite barbecue rub, smoke at 275 degrees for 30 minutes and then increase heat to 400 degrees, cooking until 165 degrees internal.

Seasoning suggestions:

Tuck a blend of sliced lemons (or oranges), thyme leaf and black pepper into the cavity of the Cornish hen prior to roasting.

Brush the skin with herb oil or butter just before serving
How would I make it easier to prepare Cornish hens for a dinner party in advance so that I can spend more time with my guests?
When entertaining, Chefs try to work ahead as much as possible so that when our guests arrive, we can spend time with them.  As a result, we prepare whole Cornish hens in this way:
Thaw, season and sear the Cornish hens in a high temperature oven so they are golden brown and ready to be finished just before guests arrive.

Another option that speeds cooking time and increases flavor: remove the backbone from the hens, flatten, season and sear in a cast iron skillet, skin side down. Finish the birds in a 400-degree oven, remove at an internal temperature of 165 degrees, and brush with herb seasoned butter.
A whole Cornish Hen can also be split so that it is easier to handle, cooks faster and can be served semi-boneless:

Thaw, split (from head to tail along the backbone), and season, roasting in a high-temperature oven until they are golden brown (15 minutes). Let it cool before removing the ribcage and finish roasting just before serving.
Recipe: Brined and Roasted Cornish Game Hen with Roasted Brussels Sprouts, Butternut Squash, and Bacon
Brine:
2/3 cup kosher salt
1/2 cup honey
12 whole peppercorns
5 fresh sage leaves
1 whole head of garlic
2 fresh thyme sprigs
1 quart water
1 lemon, cut in half
Combine all ingredients and bring to boil. Once everything is dissolved, add 1 1/2 quarts cold water (make sure water is under 40 degrees before adding Cornish.)
Next take two large, turkey-sized oven roasting bags and brine four Cornish hens for 12 hours.
After they are brined, let them air-dry in the refrigerator for 24 hours for a crispy skin and even coloring when roasting.
Roasted Vegetables:
Cut Brussels sprouts in half.
Peel and de-seed the butternut squash, then dice it into ½ inch pieces.
Cut thick-sliced bacon into lardons (cutting the bacon width-wise to create smaller strips) and partially cook, halfway (bacon will finish cooking in the oven).
Cornish Hens:
Pre-heat oven to 450 degrees.
In a 15 x 10 baking pan, toss the Brussels sprouts and butternut squash with olive oil, salt and pepper. Arrange in a single layer and then top with bacon lardons.
Place hens, breast side up, on top of the vegetables. Bake at 450 degrees until thermometer inserted in breast reads 165 degrees (25-35 minutes).
Cover loosely with foil if hens brown too quickly.