Family farms are more than a business, they are a livelihood, and they are raising the next generation of farmers.
To learn more about how the families we work with operate, I sat down with the Butlers and Geurins–two families who have owned and operated their own family farms for multiple generations in Northwest Arkansas.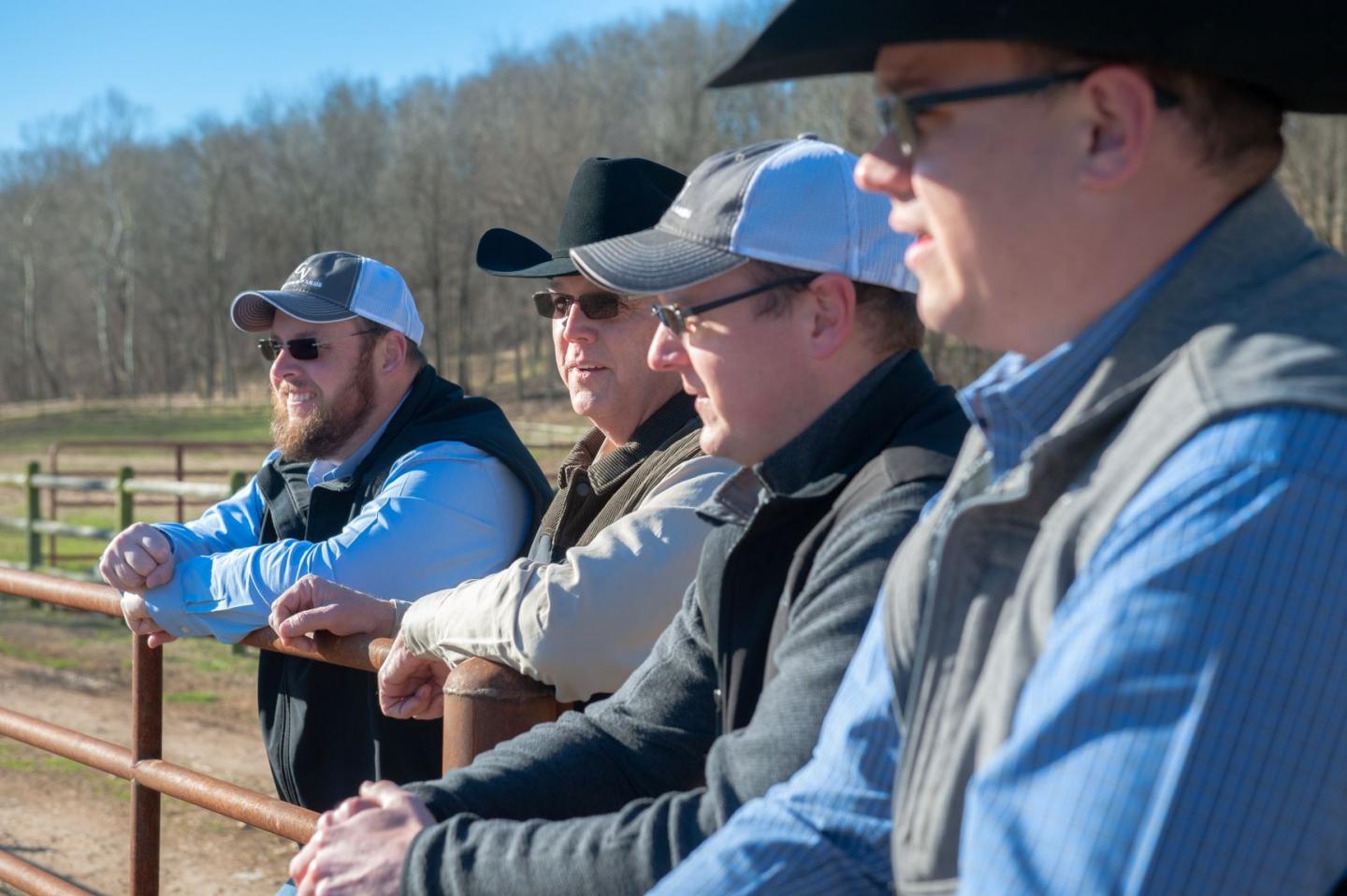 Q: Tell me a little bit about your experience working with Tyson Foods
Butler Family: In 1935, the Butler great-grandparents built large scale poultry houses. Each generation since then has been actively involved in our farms. Today, our grandkids, ages 3 to 5, are already comfortable and "working" in the houses–that's five generations! Our whole family works together with the support of a Tyson service representative to make our birds the healthiest and happiest they can be–this is everyone's number one priority. Tyson really cares about their growers, and we really appreciate that.
Geurin Family: Ten years ago, our family owned one small farm. Today, we own and operate five farms, and it's a 24-hour-a-day job. Between our families, we are the third generation to own and operate a farm with Tyson Foods. Their advice and support has been invaluable. So much of our heart and soul goes into our farms. Without a support group, we're not sure it would be possible. Our Tyson partners know the ins and outs of the poultry farming world, and they do whatever is possible to help us.Geurin family.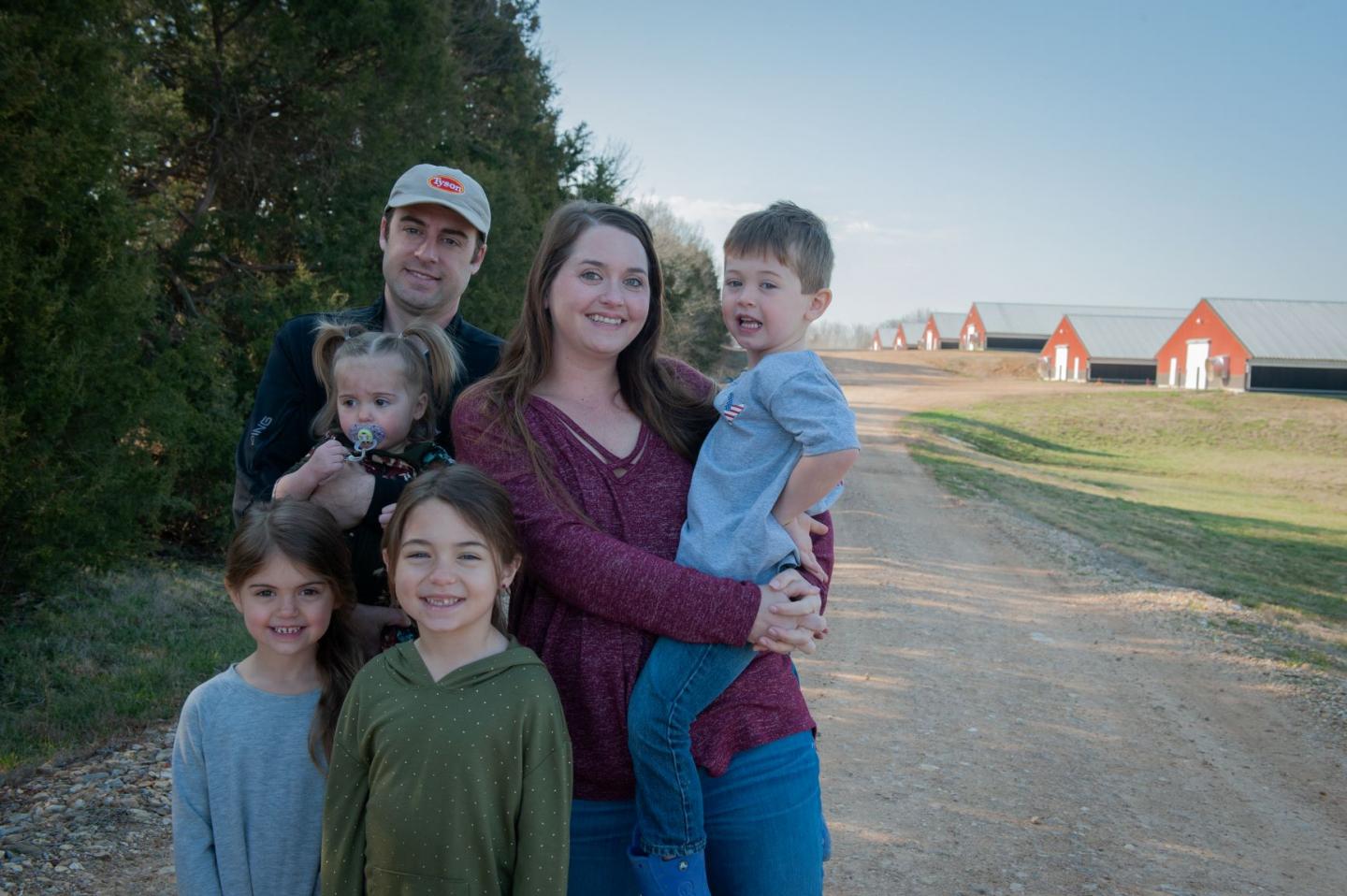 Q: Can you describe what the dynamic is like on your family farms?
Butler Family: This is our business and our entire family works together on the farms. Our parents, grandparents and great grandparents all have a heavy hand in our work. Our wives and daughters are largely involved in our farms as well–we couldn't do it without them. They do everything from keeping the books to teaching our children how to care for our chickens and all the behind-the-scenes work that goes into it. Meanwhile, our sons and the rest of the family tend to the chickens and their houses. We all divide responsibilities to ensure everything gets done.
Geurin Family: For us, it's a family deal. Everyone chips in and we're lucky to have what we have at home to help us get the job done. The women in our family are very involved in our work, too. They keep the entire process under control and set us up for success every day. Our wives handle 100% of the book work–from banking to HR. If it wasn't for our family's teamwork, we wouldn't be farming today!
Q: What's the most common misconception about your farm that you wish people could understand better?
Butler Family: We care about our chickens. Our birds are very healthy and well taken care of. The modern-day poultry houses are designed, heated, cooled and lighted based on what a chicken wants. For example, no city in America monitors or knows the mineral breakdown in water more accurately than any Tyson chicken farmer.
Geurin Family: Today's technology gives us more time to care for our chickens. Actually, they live better than we do! The quality of our chickens is something we're proud of–they're clean and healthy and we'd be happy to show anyone the inside of our chicken houses. Our farms and the animals raised there mean everything to us–they're family farms. We hope to live long enough to help our grandkids own a farm–it's part of why we work so hard.
Q: What does being part of the global food system mean to you?
Butler Family: We're proud to say that our farms feed families around the world and our own families. We feed our family the very same chicken that we raise. That just goes to show how confident we are in what we do.
Geurin Family: For our family, we're proud to know that tonight, someone is eating the chicken that we raised. It comes down to a matter of pride–we know that Tyson Foods has a lot of pride and we have a lot of pride as farmers. We eat our chicken because we know that it's the best there is. We aren't just feeding families; we also are providing new jobs and opportunities for the people in our community.
Check out some of the photos from my trips to the Butler and Geurin family-owned farms!
Published March 26, 2019.