We're proud to work with amazing team members, who are living THE 5CS at work and at home. If you know an amazing team member, contact us at amazingteammembers@tyson.com.
January is International Creativity Month. Team member Christopher Jones is using his creativity to protect our animals and team members in Dakota City.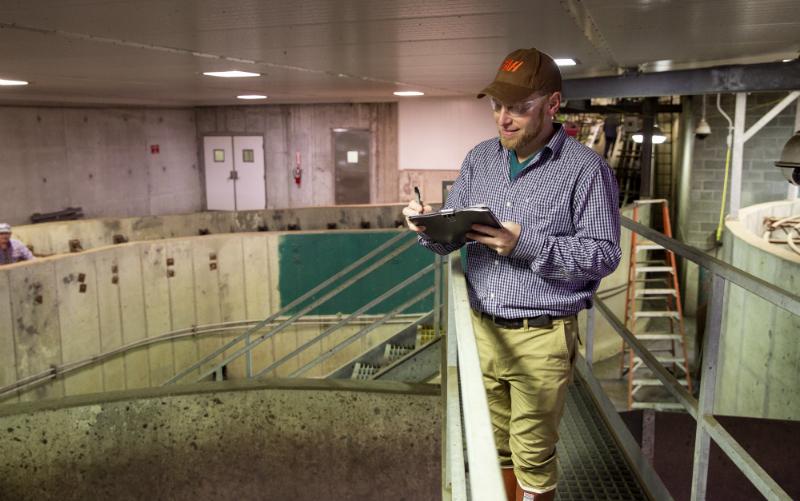 For the love of the job: "As the animal welfare specialist, I'm responsible for making sure our animals are treated humanely and our team members stay safe. I have a strong drive for continuous improvement. I'm always looking for ways to make things safer, more efficient and more ergonomic for our team members and our animals."
"I've always loved working with animals. My first job was at an exotic pet store. I studied environmental science at the University of Nebraska in Omaha. And, in 2009, I began working in the live cattle yards at our Lexington, Nebraska facility. While in Lexington, I also worked as a safety specialist and production supervisor. Later, I transferred to our Dakota City plant. I worked as the cattle yard supervisor and senior safety supervisor. And, in 2017, I became the plant's first animal welfare specialist."
Making a difference at work: "I recently helped with a project to install privacy fencing around our cattle yards. Visual distractions were startling the cattle, causing them to stop. We installed fencing that limits their field of view. The areas where cattle were stopping and turning around, were the same areas team members were getting injured. This project is a win-win for safety and animal welfare. The cattle are calmer and more confident, and our team members are safe."
"Another project I'm proud of is the renovation of our live cattle truck unloading ramps. We designed a new heavy-duty, maintenance-free protective bumper that keeps animals from slipping and falling when coming off the trucks. We installed the first prototype this summer and rebuilt each unloading ramp. We finished the last one in October. So far, the ramps have been a huge success."
"I'm proud of these projects, but they were a collaborative effort. None would have been possible without our Operations, Food Safety, Safety, Ergonomics and Maintenance teams."
Using creativity at work: "I'm a pretty creative person. I like to use my creativity whenever and wherever it can help. I try to create learning materials that are easy to comprehend. I add visual aids to policies to make them more understandable for our team members. And I've designed safety T-shirts that incorporate our 5Cs."
Being creative outside of work: "We work six days a week, but I like to stay busy in my spare time. I like woodcarving, making custom decks and building custom high-speed motorized scooters."
Published January 17, 2019.