I've recently returned from the annual NATIONAL ASSOCIATION OF CONVENIENCE STORES (NACS) SHOW, a four-day event that brings together the industry's retailers and suppliers along with the most comprehensive representation of products and services for the convenience and fuel retail channel. This year, more than 24,000 people attended the NACS show from 60-plus countries, and more than 1,200 companies exhibited. Tyson Convenience had a strong presence and used the show as an opportunity to launch new items, connect with customers, and make a positive impact on the community.
This year's show included a variety of new products, with a noticeable emphasis on foods calling out natural ingredients, protein content, or hot and spicy flavors. Tyson was no exception, using the event to launch and sample our new Hillshire Farm® Skinless Smoked Sausages that feature rich, distinctive flavors:
Spicy Cajun Jack Skinless Smoked Sausage
Green Hatch Chili Chicken Skinless Smoked Sausage
Chipotle Jack Chicken Skinless Smoked Sausage
Four-Cheese Skinless Smoked Sausage
Nashville Hot Chicken Skinless Smoked Sausage (Available Jan. 2019)
We're all about helping convenience retailers capitalize on new trends and expand popular offerings. For example, we know croissants are a top bread carrier in the breakfast category, so we saw an opportunity to fill the gap with the Big Az® branded breakfast sandwich that combines sriracha-glazed pork sausage, ham, egg, pepper jack cheese and swiss cheese on a croissant.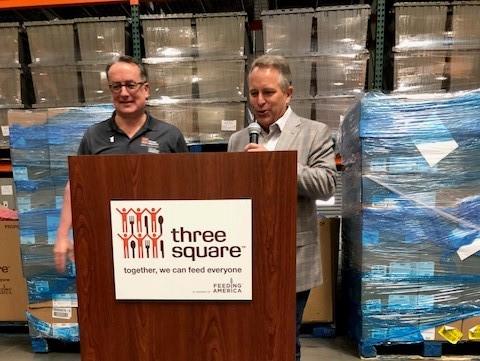 In addition to attending the show to debut our newest innovative products, for the past several years, in conjunction with our participation in the trade event, Tyson Foods has partnered with NACS to donate to a food bank in the show's host city (Las Vegas, NV this year). On October 10, we donated a truckload of protein totaling 35,000 pounds to Three Square Food Bank to help fight hunger in Southern Nevada. Three Square will distribute the donated food, which is equivalent to 140,000 servings, through its service network of more than 1,600 community partners to reach struggling individuals and families at risk of hunger.
"No one in our community should ever have to worry about where their next meal is coming from," said Brian Burton, Three Square president and CEO. "This donation will provide a valuable protein boost to the individuals who rely on Three Square," Burton continued. "We cannot thank Tyson Foods and the National Association of Convenience Stores enough for helping us continue to provide relief to our hungry neighbors."
Check out more top trends from NACS HERE.
Published October 19, 2018