Stacy Lewis puts in her share of work on the golf course. And it's paid off. During her career, she's earned two major championships and secured 13 LPGA Tour wins.  
But she also recognizes there's much more to what she does than the game itself. Below, Lewis, sponsored by Tyson brand, talks about the women who have helped shape her – and what she ultimately hopes to see change for the next generation of women in sports. 
You had surgery in high school for scoliosis and missed your first collegiate golf season recovering. What were some of the life lessons you learned through that experience that have stayed with you?
Stacy: I think it created a lot of determination in me. When things get tough, that's when I get better. Having to go through all I did with my back, I learned to deal with hard situations. For golf, that's perfect because it's such a mental game that you have to be able to overcome bad holes and bad shots. The biggest thing is just to never give up. When somebody tells me it can't be done, I say, "watch me." It's made me who I am.
During your time as a professional athlete, what achievements have you seen from women that make you especially proud? What work has yet to be done on behalf of women in the world of sports?
Stacy: Women in sports are so talented, yet they don't get watched enough. We need that to change. That's why I keep pushing for change. For the next generation of female athletes. For my daughter. Golf has given me so much, and I want the next generation of girls playing the LPGA Tour to have a better experience than I've had.
I hope 20 or 30 years from now, we're not still having the conversations about inequalities in the workplace, inequalities in sports. That's my ultimate goal. I've always been the person to ask 'Why? Why do we make less money than the guys?' 'Why don't we get on better golf courses?' 'Why?' If somebody can give me a legitimate reason, then okay. But let's make things better across the board and continue to push the envelope and raise the bar. 
Playing professionally alongside women from other countries, what have you learned from them? Is there a special camaraderie you share?
Stacy: I've played with women from so many different countries. The work ethic and desire is one thing I see from all of them! They each have their own challenges of getting to the LPGA, so it is a great accomplishment to get to this level and win. 
You have been named the 2023 captain for the Solheim Cup Team USA. What does that position mean to you, and what do you hope to impart to others in that leadership role?
Stacy: To be named captain for the USA Solheim Cup Team is an incredible honor, and I'm beyond grateful to the Committee for choosing me. I have so many amazing memories from my years on the team, and the two opportunities I've had to work alongside the team. I absolutely love the Solheim Cup, and I want 2023 to be as great an experience for my team as my years wearing Red, White, and Blue have been for me.
I am trying to determine how I can make the environment positive and fun. I want to help make the girls into a team that really cares about each other. I don't want to the Solheim Cup for me, I want them to win it for their teammates.
You're a wife to Gerrod and a mom to a little girl. What do you hope your daughter learns by watching you?
Stacy: I want to show Chesnee that you can be a working mom. You can have kids, you can lead an organization, you can be a professional athlete, you can do whatever you want and still have a family.
She doesn't know it now, but hopefully someday she will appreciate what I have shown her and done for her. I want her to know she was a part of what I did on the golf course. Not an afterthought to my career, but a part of it.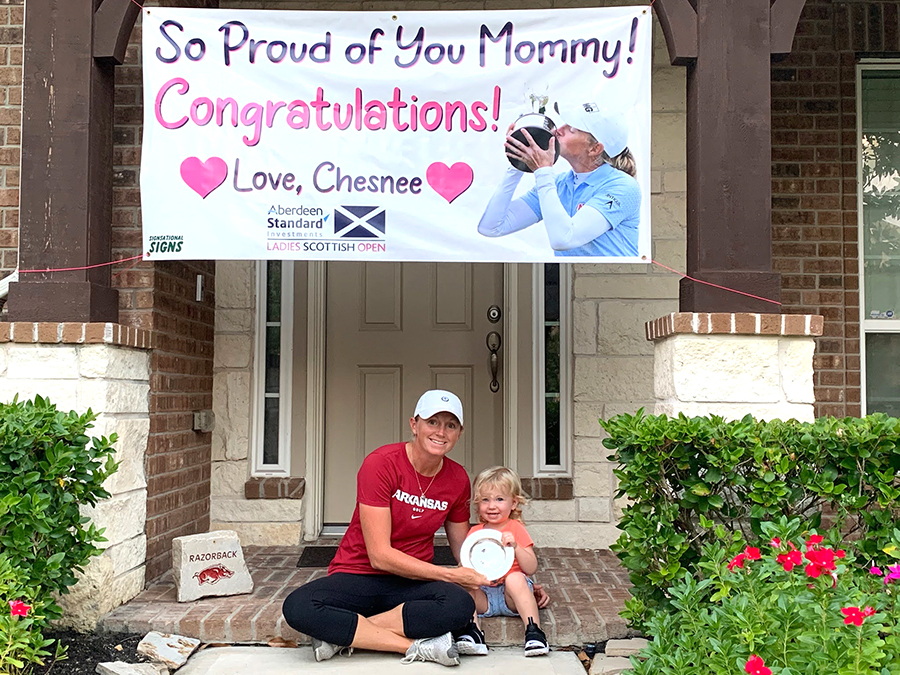 March is Women's History Month. Who are some of the women, past and present, who have inspired you?
Stacy: My Mom and my college golf coaches. My mom is a great inspiration for me now having my own child and being a good example for my daughter. My college coaches for believing in me more than I ever believed in myself. They are a big reason why I have been so successful! 
The theme for Women's History Month is "women providing healing, promoting hope." This theme is "both a tribute to the ceaseless work of caregivers and frontline workers during this ongoing pandemic and also a recognition of the thousands of ways that women of all cultures have provided both healing and hope throughout history." What comes to mind for you when you think about this theme?
Stacy: I have never been more thankful for the men and women on the frontlines than I have been over these past two years. I am grateful for the ways they have served our country and our world, and I am grateful for the opportunity to celebrate and honor those women this month. 
What is your favorite Tyson Foods product?
Stacy: In our house, it's the chicken nuggets!