The death of George Floyd and the events that followed were difficult for many Americans, as we tried to make sense of it all. We watched on TV and even witnessed firsthand in our communities an uprising like we had never seen before. It caused us to ask, "What can we do in our communities, organizations and own families to try to bring about real change that could last and provide an impact beyond the next few weeks?"
We began to think about what we could do as Tyson team members to benefit the city of Chicago, specifically focused on neighborhoods that historically are food insecure, have been disproportionately impacted by COVID-19, have high unemployment and were now experiencing grocery store closures after unrest across the city. Our desire to help, coupled with the support of our Corporate Social Responsibility team that focuses on providing protein to those most in need, resulted in a plan to bring food donations to the parts of the city we knew needed it most.
On June 20, a group of 25 Tyson team members, along with volunteers from the Illinois Restaurant Association Educational Foundation, joined The New Life Community Church to serve the Southwest side of Chicago. Anchored by a Tyson 18-wheeler truck filled with 36,000 pounds of frozen chicken, the team filled trunks of hundreds of cars with protein and produce to help a community in need. In a 5-hour period, we were able to serve:
609 cars
1,102 families
4,473 individuals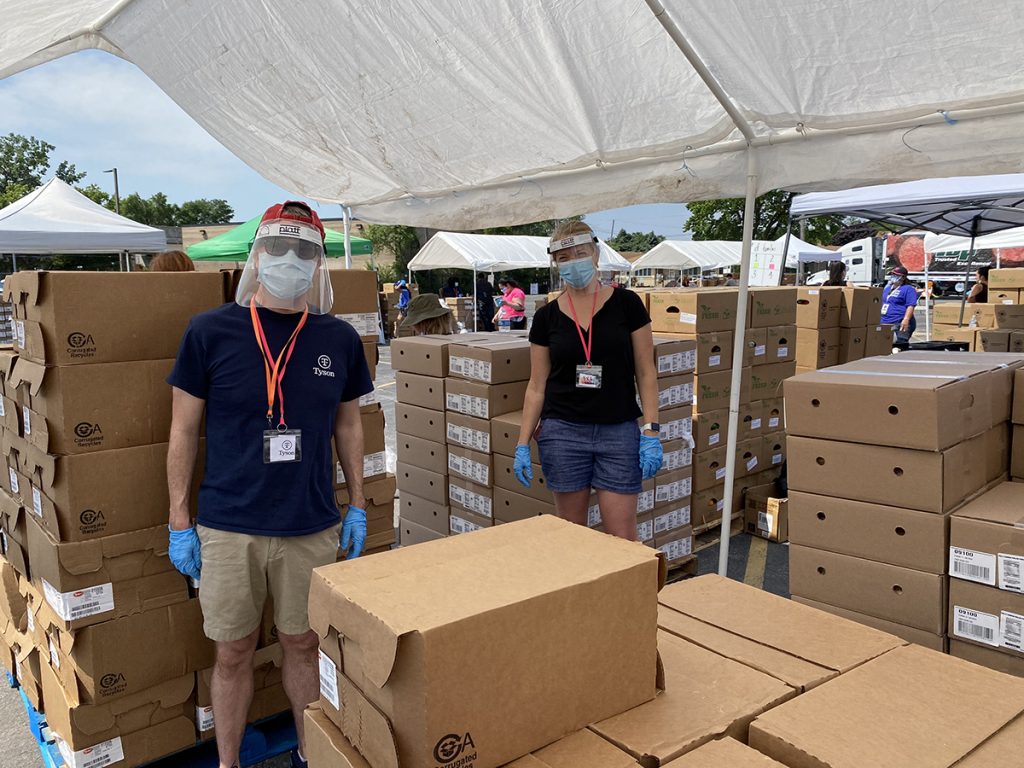 And we did it while practicing social distancing, wearing appropriate protective facial coverings and having FUN! There was upbeat music playing in the background, camaraderie within volunteer teams, and even a cart carrying paletas (Mexican-style frozen fruit bars) that rolled by during the event to provide the volunteers with a sweet treat!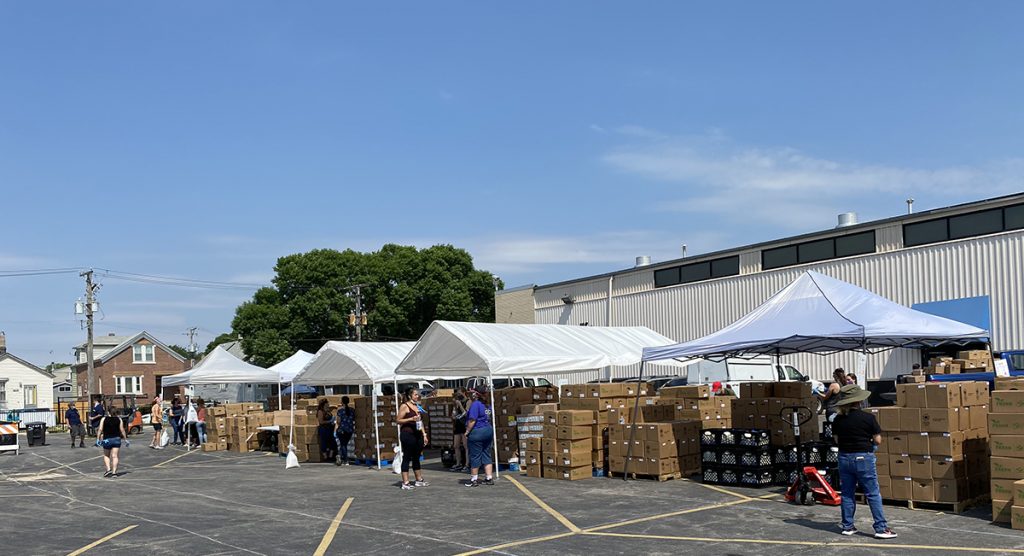 We also wanted to provide food to communities further south in the city and began exploring partnerships with Sophia King, Alderman of Chicago's 4th Ward. The 4th Ward is primarily African-American and encompasses historic communities like Bronzeville, North Kenwood and parts of Hyde Park. On June 27, working in conjunction with the Alderman's office, we executed a food giveaway that would go directly to food pantries and senior homes in the community. That same day we were also able to make a donation to Leo High School's food pantry, which serves the Auburn-Gresham community. Leo High School and Principal Shaka Rawls started a food pantry shortly after the school shifted to remote learning due to COVID-19, so we were thrilled to support their efforts while their doors remained closed to in-person learning. In total, 40,000 pounds of Jimmy Dean and Hillshire Farm products were distributed that day. 
We originally set out to hold one food distribution event, but by the end of the month did three – providing nearly 80,000 pounds of food to the Chicago community, which equates to 320,000 meals with the support of 36 Tyson team member volunteers! And we'll continue to make sure these moments happen across the country.
Every day, friends and neighbors in our communities are depending on local food banks and community pantries to provide for their families, and we are committed to addressing this need. Since early February, Tyson Foods has donated more than 60 million meals to help fight hunger nationwide.
This experience has been one we will never forget. Seeing the eyes light up of those in need as we provided them with premium, protein products to help feed their families will have a lasting impact on us and the community.
During times of unrest, there are ways to channel feelings of anxiousness, helplessness or even frustration into moments of good. And we hope our actions encourage others to make positive changes in their own communities, whether big or small.
For more ways to get involved with the Tyson Meals That Matter Program, or to learn more about the Tyson's Donation matching program, visit https://www.tysonfoods.com/who-we-are/giving-back/disaster-relief.