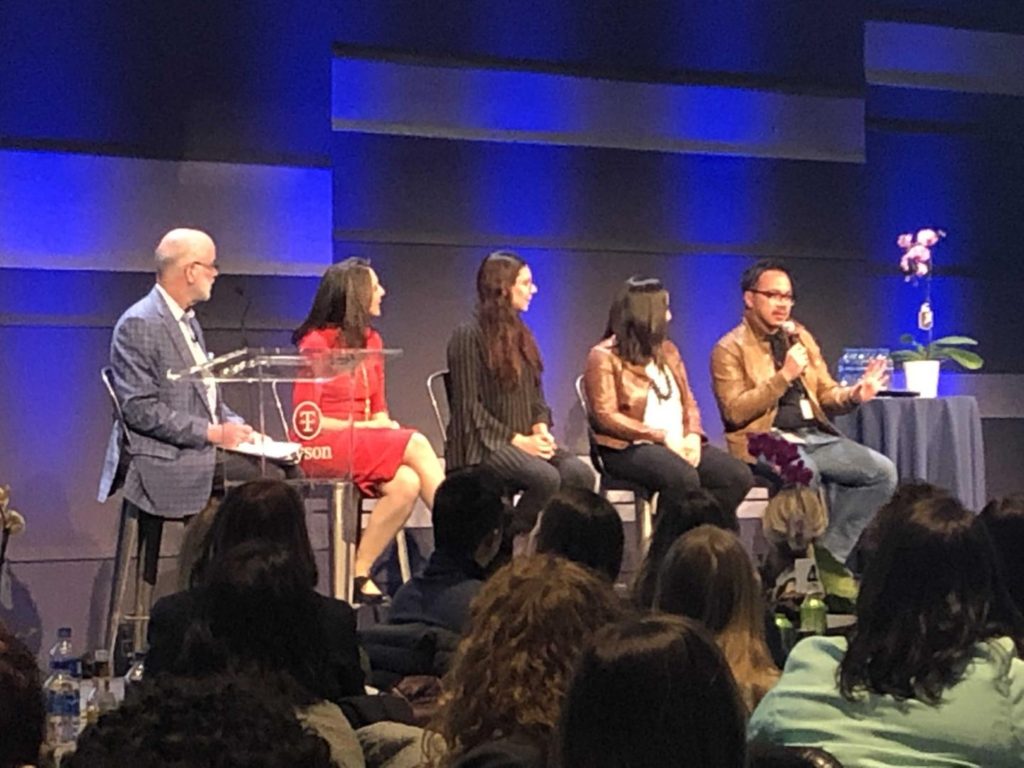 Last Thursday, professional women (and a handful of men) from across the Chicagoland area representing different businesses and backgrounds flooded the Tyson Foods Chicago HQ. The room was buzzing with energy awaiting the main event: a panel of industry leaders in innovation.
The event, New Disruptors in Consumer Products: Incubators, Accelerators & Entrepreneurs, was hosted by the Chicago chapter of NETWORK OF EXECUTIVE WOMEN (NEW), an organization dedicated to the advancement of women, that aims to grow business and transform workplaces through the power of community.
The event kicked off with a welcome from Jennifer Bentz, our SVP of Insights & Analytics, who shared staggering facts about the changes happening in the industry and in our world, which helped set the stage for a powerful discussion about transforming consumer habits and disruptive innovation.
The panel consisted of Rizal Hamdallah, Head of Innovation Lab for Tyson Foods, Eliana Pinilla-Ryhal, VP of Research and Innovation for RXBAR, Natalie Shmulik, CEO of The Hatchery, and Geri Yoshioka, Director of Consumer Planning and Insights for Walgreens, and was moderated by David Donnan, Partner Emeritus at A.T. Kearney.
The questions and topics during the panel discussion covered a broad spectrum,
but walking out that evening, a handful of learnings stuck with me:
Big companies can learn a lot from startups, and startups have the opportunity to gain from big companies.
One of the many interesting things about the panel was the dynamic group. The speakers' backgrounds ranged from large companies, such as Tyson, to smaller organizations, like The Hatchery, a non-profit food and beverage incubator based in Chicago. Perhaps the most interesting was also the inclusion of RXBAR, which was recently acquired by Kellogg, a brand very much in-between both worlds.
Rizal provided perspective on how big companies can learn to be more agile by embracing a startup mindset. He highlighted the importance of the decision-making process as a key to unlocking the momentum with which startups go to market.
Natalie focused on the importance of resources, particularly as it relates to smaller organizations which are looking to expand— which is a testament to The Hatchery's dedication to connecting entrepreneurs with corporations and community partners. One of the major benefits of large companies is their available resources which can serve to unlock scale for smaller enterprises.
Know your consumer.
Entrepreneurs and innovators are often most aware of the end consumer, as they themselves are the consumer of the product. As shared by Eliana, the founders of RXBAR were their own consumer. They were able to identify a gap in the marketplace based on their own experience: the need for a protein bar that delivered on health benefits, but also delivered on taste.
However, we're not always the end consumer of the product we're working on. To develop products that solve consumer problems, we need to find ways to understand the needs of consumers, and sometimes that means dropping our pride and taking a walk in our consumers' shoes.
Geri got pretty transparent and shared an instance when her team wanted to get the true consumer experience with one of the less-glamorous things they sell: incontinence products. Yes, her team took adult diapers home to test—some of them even extending the testing to the office during the work day. Geri's team felt for the first time what many consumers who purchase and use these products feel. Through this exercise, they were better able to empathize with their consumers and were able think differently about the product.
Sustainability is in everything.
Living in today's world, we are all acutely aware of the finite resources available to us. As a result, it is imperative that we act as responsible stewards. Rizal reiterated that sustainability is more than being "green." People, the communities in which we interact and grow, the supply chain, the product and the packaging should all be considered when it comes to sustainability.
Increasingly, companies are even taking a more sustainable approach to putting products on shelves, using "upcycled" ingredients to tackle the issue of food waste. A perfect example is our Innovation Lab's premiere product, ¡Yappah!, made from spent grains, vegetable puree that otherwise would have gone to waste, and upcycled chicken breast meat.
Product packaging is another important aspect when considering sustainability. Geri highlighted that one of the segments with the most room to grow in sustainability and recycling is beauty. LUSH, a cosmetics company rooted in sustainable production of beauty products, has led with products that have no need for external packaging. An example of this being their shampoo bars, a solid form of shampoo you lather and use on your hair the same way you would a "normal" shampoo.
Ways of thinking, consumer preferences, and industry standards are evolving at lightning speed.
To keep up, we need to be prepared to continuously adapt and adopt a growth mindset.
To go beyond, we need to open up, and lead the charge of disruption.
Published April 18, 2019.