In 2015, AVOCADO TOAST took menus by storm. In 2016, the RAINBOW BAGEL became Instagram famous. In 2017, a Starbucks FRAPPUCCINO WENT UNICORN and the world followed suit. And in 2018, the POKE BOWL went from Hawaiian sleeper hit to the new chopped salad. So…what food trends will be on the tips of our tongues in 2019?
Tyson Foods is the largest U.S. food company. Food isn't just our business – it's our passion. We take enormous pride and responsibility in helping shape and identify the next wave of culinary trends. This year we created the Tyson Trendtellers Council made up of a dozen of our company's top food thinkers and innovators. In other words, they know food and are passionate about it.
To harness the power of their insights, we asked our Trendtellers to delve into what's next on the horizon when it comes to food. Not just "what's the next cronut" (although that's always worth knowing) but what's going to drive choices and shape tastes. Tyson Foods' 2019 list includes:
Personalized foods to promote health and beauty
Transparent food takes hold
More protein in more forms
The power of smart technology and food
Food as a form of self-expression
Fusion of global cuisines at home

Proactive Wellness: Personalized Foods for Health and Beauty
Silicon Valley gave rise to bio-hacking using the science of the body to create a "shortcut" to greater health. In 2019, more people will be thinking strategically about eating foods that help give them energy, focus and sharper thinking. Imagine boosting your morning coffee with a "smart" snack that makes your mind crackle with energy. One of the most exciting things to come out of this push is the new "superfoods:" the trend of boosting existing foods with the addition of positive health-inspiring ingredients.
Health and wellness has evolved from not only eliminating ingredients that detract or don't facilitate vitality but adding ingredients that may offer extra health benefits. The food industry—from manufacturers to retailers to restaurants—will offer more of these targeted, health-inspiring food options in response to current trends like detoxing and boosting energy. This includes: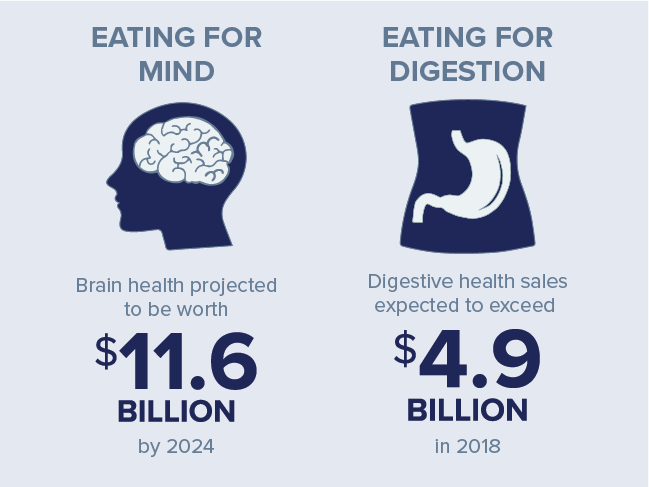 Eating for Mind
According to Research and Markets, brain health is projected to be worth $11.6 billion by 2024. People are obsessed with brain health and nootropics—that's brain food to you and me—are also top-of-mind for health-conscious people. Unique ingredients such as dandelion greens and jicama (Mexican yam) are great examples of this trend.
Eating for Digestion
As digestive health has become a more mainstream concern, sales in this market are expected to EXCEED $4.9 BILLION in 2018. Probiotic foods, including kombucha and numerous varieties of fermented foods played tag as the top probiotic to aid gut health. Turmeric is another great example of an ingredient that not only adds flavor but is touted to bring anti-inflammatory benefits to food in 2019.
Eating for Beauty
Shinier hair, softer skin, stronger nails: What food can do to create "healthy beauty" is on the rise. Ingredients such as collagen will increasingly be available to blend into recipes for those who believe it enhances bone, hair and skin. Many consumers say they have already started experiencing the benefits of bone broths, a trend that will only strengthen in the year ahead.
Proactive wellness will involve greater personalization as advanced analytics allow people to adjust and customize food products in real-time. DNA TESTING is also now available for what may be the most personalized eating plan of all.

Mystery Solved: Transparent Food Takes Hold
Is this vegetable local? What did this chicken eat? Is that apple wild-picked and hand-washed? Love it or hate it, people are ASKING MORE QUESTIONS about their food. That's fine when you're in a restaurant and can ask a waiter, but what about when you're alone in the supermarket? Astonishingly, getting instant answers is right around the corner.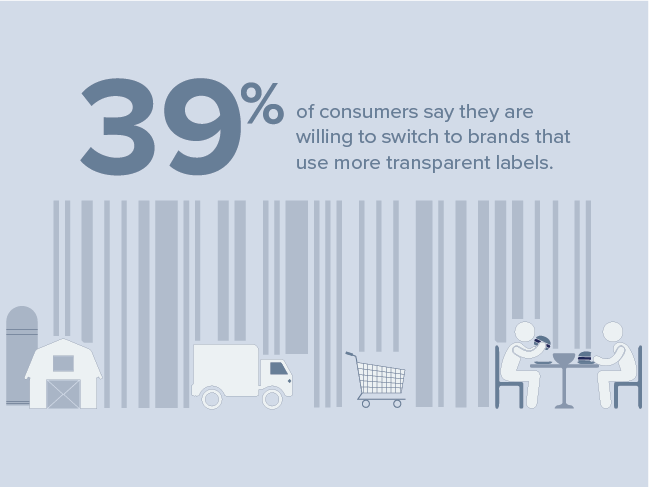 New technology is providing everyone, not just experts and professionals, with background information about their food. The concept of tracking food from farm to table, which first took hold with some smaller brands, will become a focus for big food in 2019. Technologies such as BLOCKCHAINare poised to drive change, with some retailers and companies tracking food from sourcing to shipping to store. New bar code technology is also enabling shoppers to scan a product code with their smart phone and see the farm the chicken came from, how far it traveled and even view a picture of the farmer who raised it.
What does this mean in 2019? Larger companies will dedicate resources to transparency and educating people on the sourcing and production of their products. These efforts will extend beyond best practices at the farm and factory level to include sustainable packaging and clean product labeling initiatives.
With 39 PERCENT OF CONSUMERS saying they are willing to switch to brands that use more transparent labels, expect the growing role of technology to spur advancements in this area.

Protein Goes Wild
Trends love nothing more than begetting other trends. For the past few years the low carb, paleo and ketogenic diets have been on the rise, but consumers' increased interest in their overall health is also creating a renewed interest in all things protein. In fact, according to the USDA, since 2014, consumption of beef, chicken, pork and turkey have each been on a steady incline, reaching RECORD HIGHS IN 2018 in the U.S. Expect this demand to continue into 2019 as consumers are actively looking to add more protein to their diets.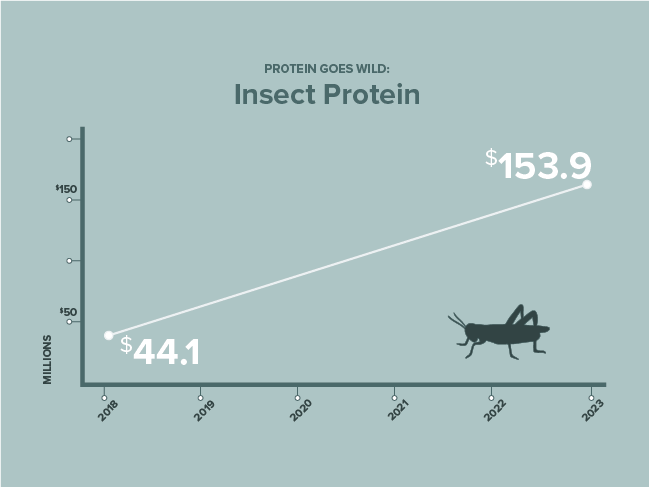 Want not, waste not! There has been a growing trend for new cuts of meat and "nose to tail" eating (where every part of the animal is being put to use) taking shape in the U.S. after years of companies exporting these proteins oversees where, in some cases, (like chicken paws in China) they are considered delicacies.
Demand for proteins like crickets and seaweed is expected to expand in 2019, as curiosity and willingness to explore options grows. In fact, the market for insects in North America alone is expected to rise to 153.9M BY 2023, up from $44.1M in 2018. And finally, with 40 percent of Americans trying to eat more plant-based foods, cue the growing new world of plant-based protein.
Veggie burgers have gone global, as people try to find the perfect "cut" of "meat," as taste, texture, look and feel of plant-based proteins improve every day. BEYOND MEAT features pea, fava bean and rice protein with trace amounts of beet for color, coconut oil for juiciness and an algae-based casing. And while still a few years away from grocery stores, lab grown proteins, such as MEMPHIS MEATS, are expected to generate more interest. The evolution of protein seems limitless in 2019.

Food That Thinks… and Talks
Nowadays everything seems to be "smart"—smart phone, smart fridge, smart kitchen. What does all this "smart" thinking mean for you and your food? As the intersection of food, technology and people expands with the Internet of Things, food brands are seeking new ways of leveraging tech to better connect with buying audiences.

That means some pretty nifty futuristic gadgets are coming down the pike. Recipe apps that "talk" to kitchen appliances and ovens that "read" recipes will roll out in 2019, as consumers begin to experience the power of technology and food coming together. Some of these new technologies also have the potential to lower food waste.
Nearly every new appliance purchased today has smart technologies built-in, from ovens that automatically change from convection to broiler to refrigerators that track expiration dates. Across the industry, food companies are working to partner with these new technologies to drive value for consumers.
Ecommerce giants like Amazon/Amazon Fresh and JET.COM have changed how people buy food, both shelf stable and fresh. However, we are just now seeing how this trend is driving brands to fundamentally change products, packaging and distribution for ecommerce channels, including greater customization.

Food Brands Are People, Too: Food as a Form of Self-Expression
Would you date this company? No, really, would you? Where did it come from? How does it treat its workers and the environment? How did it respond in times of crisis? No longer are companies just companies and no longer is it enough for a brand to create a good product and call it a day. In 2019, answering questions about how a product was made, where and under what conditions matters more than ever.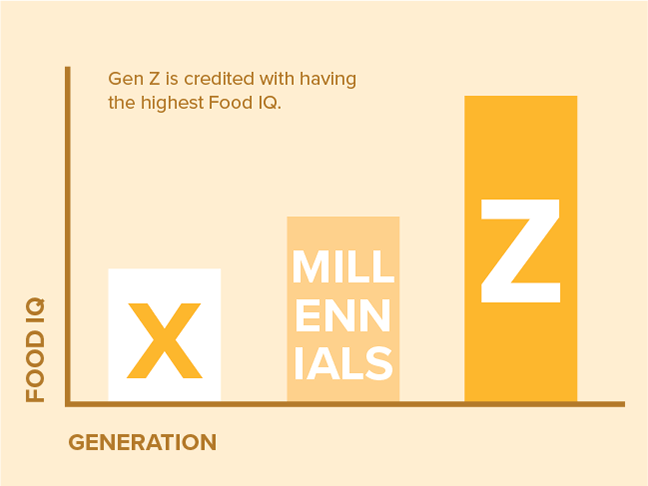 Today, consumers are aligning with companies that represent similar values to their own. For Gen Zers in particular, food is more than sustenance – it is a symbol of their personal values and a form of self-expression.
Gen Z was raised to be real and true to themselves and, as a result, they expect the same from the food brands they buy. They often are noted as having the highest food IQ compared to past generations and are one of the largest consumers of organic and non-GMO foods. Clean eating is important to them and their quality of life. Fresh, sustainable, authentic foods are lifestyle choices.
In 2019, expect food brands, much like fashion labels, to come with their own cachet and social currency. The brand of bars a Gen Zer carries in their gym bag and the flavored water they tote to class can say as much about "brand me" as the logo on their t-shirt and the swoosh on their sneakers.

Global Thrill-Seeking Cuisine: The Fusion of Flavors
Take the satisfying chewiness of a spicy tuna roll, add the pleasing heft of a burrito, then throw in some of the zingy flavors from Vietnam or say, South America, and you've got one of the biggest trends of 2019 – global cuisines and out-of-the-box flavors, the kind usually only found in restaurants, making the shift to the home. (And why not, it sounds amazing.) These global thrill-seeking cuisines marry flavors, techniques and tastes from regional and ethnic cuisines to create something entirely new and delicious.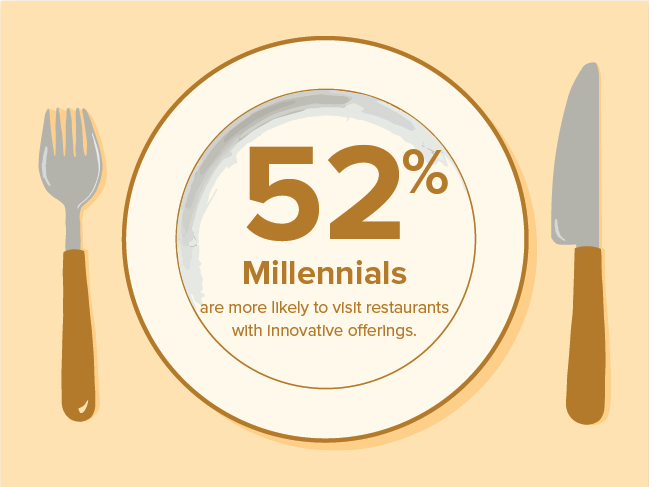 While fusion food has been around, in most cases it took a visit to a restaurant to experience these flavors. In fact, Millennials are 52 percent more likely to visit restaurants with innovative offerings, while consumers over the age of 35 are 35 percent more likely. This interest has in turn sparked the evolution of these flavors into the home.
Recognizing this demand, household brands are now offering more new and innovative flavors and pairings than ever before. They are capitalizing on this trend because both home cooks and eat out audiences are willing to spend more on meals that feature these expanded flavors.
And, in a twist that will thrill parents everywhere, it seems kids' taste buds are craving new, more modern flavors and cuisines. More than ever parents are encouraging kids to experiment with unexpected food flavors. This will continue to drive food brands to think outside the box. The impact of kid foodies is already hitting the school lunch room, where even menu items like spicy Korean BBQ, Thai lemongrass chicken and garlic buffalo chicken drumsticks are becoming more standard fare.
Our Trendtellers Council
Jennifer Bentz, Senior Vice President, R&D, Innovation, and Insights
Nadia Grandus, Senior Director, Insights and Analytics
Kent Harrison, Vice President, Fresh Meats
Leigh Ann Johnston, Director, Sustainable Food Strategy
Tim Madigan, Vice President, eCommerce
Kathy Miller, Director, Shopper Insights
Risa Schwartz, Senior Director, Consumer Insights, Analytics and Sensory
Karen Shank, Director, Wellness and Nutrition
Mario Valdovinos, Senior Director, Culinary

Published November 15, 2018.