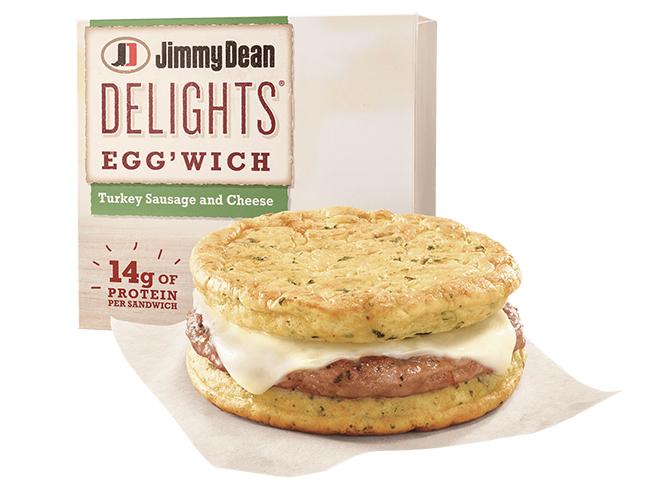 While there are lots of bread lovers out there (OPRAH BEING ONE OF THEM!) and even a National Bread Day (Google it!), the culinary preferences of consumers are evolving. We even verified it in a survey – more than 33% of Americans have vowed to eat less of this yeasty treat in the new year and half have eaten a "sandwich" without bread.* So, what gives, Merriam-Webster?
At Tyson Foods, we believe a sandwich is still a sandwich without bread. In fact, we are launching our first breadless sandwich – the Jimmy Dean® Delights Egg'wich.
Made with savory breakfast sausage and cheese stacked between two real egg frittatas that are loaded with veggies, this great tasting breakfast sandwich packs a protein punch, without all the bread of course, and is ready to help you face your morning in under two minutes.

Staying at the forefront of changing preferences is something we eat and breathe every day at Tyson Foods, so we felt it was only right to call on the dictionary to spruce up its definition of a sandwich to reflect how people eat today. We're asking all Americans to help us do away with the "stale" definition of the word sandwich. See what I did there?
Just in time for Nov. 3, also known as National Sandwich Day, we are calling on all sandwich-lovers to sign our PETITION to Merriam-Webster to show the world that a sandwich without bread is indeed still a sandwich!
And while you are at it, check out all of our NEW JIMMY DEAN® DELIGHTS BREADLESS BREAKFAST OPTIONS.
*The Jimmy Dean brand commissioned a survey conducted by Kelton Global as part of its Egg'wich campaign. The Jimmy Dean® Delights Egg'wich Survey was conducted October 4, 2018 – October 7, 2018 amongst 1,000 nationally representative Americans ages 18 and over using an e-mail invitation and an online survey. Kelton Global is a leading global insights firm.
** Note: This petition is in no way endorsed by Merriam-Webster.
Published November 1, 2018.