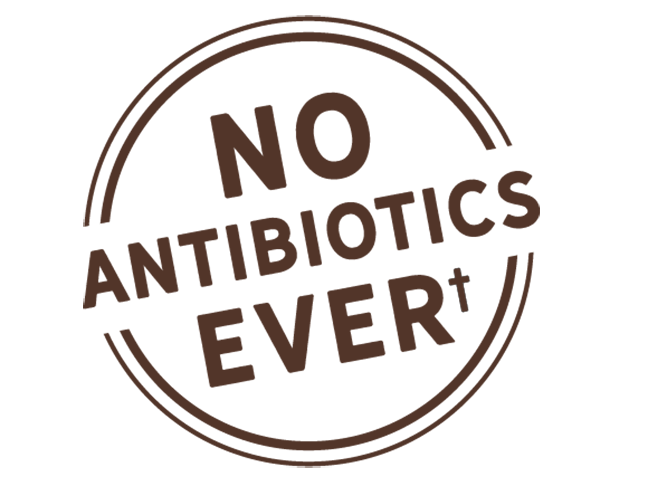 When I talk with people about how we raise chickens, questions usually come up about antibiotics. And the false belief that we constantly put them in feed and water.
Nothing could be further from the truth. Last year Tyson Foods announced all Tyson branded chicken products would be raised with NO ANTIBIOTICS EVER (NAE) – making us the world's leading producer of NAE chicken. This means these chickens are never given antibiotics in any phase of their lives – from egg to market age.
Twenty-plus years ago, it was commonplace to regularly use antibiotics to raise chickens. This is why many of these myths live on today. Since then, farmers have continued to improve farming practices and use available technology to greatly reduce the need for antibiotics. We know now that overuse of antibiotics in both animals and humans is part of the global health concern of antibiotic resistance. Which is why we decided to transition Tyson branded chicken to NAE.
While we are the world's leading producer of NAE chicken, you should know we do occasionally use antibiotics — and for good reason. Just like people, chickens can become ill. If they do, it's our obligation to treat them. We start by using non-antibiotic treatments that may include probiotics, essential oils and certain mineral salts. If these treatments don't work, a veterinarian, like myself, will provide a prescription for the appropriate antibiotic.
In 2017, LESS THAN 1 PERCENT of the chickens raised for Tyson Foods were treated on farms by veterinarians with shared-class antibiotics (those used for both animals and humans). But it's important to us for people to know that we do not label birds as NAE chickens if they have been treated with antibiotics.
As someone who has dedicated his life to the health and well-being of animals, I'm proud of the actions Tyson Foods and our industry have taken to provide a healthy growing environment for our chickens. When absolutely necessary, we use shared-class antibiotics (those used for both animals and humans) to help our chickens recover from illness – but never as a preventative measure.
Doing what's right is an important part of our company's purpose – to raise the world's expectations for how much good food can do. What we need to do more of is educate people about our practices. Sharing the facts in a transparent way is what this blog series is all about.
*Editor's note: this is blog 1 of several that will address common questions and misconceptions some people have about how chickens are raised.
Published August 17, 2018.